42DM at Bitcoin 22 conference – Marketing for crypto projects
Insights about crypto market growth in 2022
Download successful case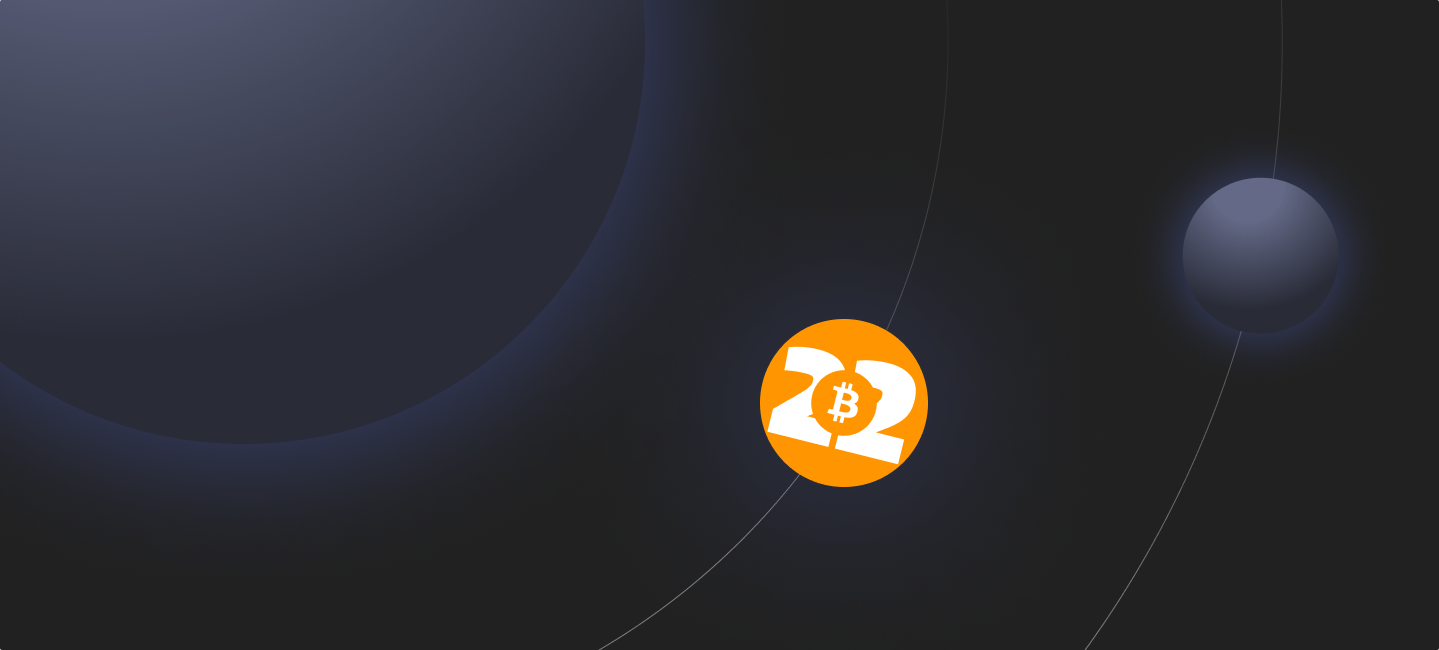 April 15, 2022

Last week, the world of crypto united at the largest event in Bitcoin history – Bitcoin Miami Conference 2022. Widely compared to the fuss about the internet in 1995, the conference became a manifestation of new financial freedom.
35 thousand people united to celebrate Bitcoin's progress towards global adoption. The panels explored financial empowerment, technological advancements, and the counter-cultural influence surrounding this open-source technology. The industry still has much room for growth and development. The core challenges of 2022 for crypto are tech scalability, regulation, environmental impact and, of course, mass adoption.
42DM's CEO Kate Vasylenko also joined this crypto meet-up and has gained valuable insights on the possible scalability for businesses in the industry.
Here is the recap:
Regulations – a green light for Bitcoin
Bitcoin's most distinctive feature is the freedom it brings by taking power over money away from a centralized entity. The US government has recently shifted its attention towards embracing crypto innovations while preventing fraud and making sure people are paying taxes on their crypto gains.
Adapting sufficient regulatory solutions for digital money is a new priority for the US to keep its position as leader of the world economy. Other governments are evolving their views in the same direction.
The US should come up with better regulation for crypto in the near future to compete with the more flexible jurisdictions that are attracting more and more crypto businesses & investors, such markets like Latin America and Portugal.
Regulation is also the path to the widespread adoption of cryptocurrencies. This will activate institutional investors to increase share of crypto assets and help state officials create local regulatory frameworks. So regulation will come but hopefully it will come for good and help millions of people build generational wealth in Crypto.
User-friendly and mass adopted – the new Bitcoin world
The future of bitcoin, as other cryptocurrencies, is user-focused. With less than 15 percent of the 7 Billion people in the world owning crypto assets today, the development of crypto and blockchain inevitably puts new users first.
From a marketing standpoint, it means adopting inbound methodologies to provide valuable content to potential customers, and educate them about a new, promising emerging market of crypto.
More and more companies are committed to this mission and help to bring Bitcoin to customer's everyday lives. Here are some news from the conference:
CashApp (part of Block) announced that their 8 million customers can now send and receive Bitcoin via CashApp and that they are enabling customers to be able to put a portion of their paycheck into Bitcoin if they want.
RobinHood announced that their 2 million customers can now buy and sell Bitcoin in their app.
In the months to come there will be other major apps and financial institutions that enable their customers to easily buy and sell crypto and make payments in crypto. Therefore, Bitcoin as a fast-growing brand will be gradually integrated into culture of every-day users.
Businesses are also starting to adopt bitcoin payments as an attractive alternative to traditional credit card payment with use of ​​Lightning Network technology.
The technologies for mass adoption are already here, the next big challenges are to educate & motivate wider audiences to participate in the Web 3.0 economy.
Proof-of-stake concept as a key driver for innovations in energy market
Another question that got lots of attention was about mining. Will mass adoption of crypto work against humanity? Will it be harmful for the environment, and ruin the sustainable future for our kids? In recent years, calls for the reduction of "carbon emissions" has led to increasing attention on the energy usage of Bitcoin. Therefore, the new challenge appeared – to make bitcoin mining sustainable and eco-friendly.
Now Bitcoin stimulates the innovation of sustainability. For example, Blockstream's new solar-powered bitcoin mining facility was described as a proof-of-concept to demonstrate that bitcoin mining can be conducted using renewable energy.
During one of the panels in Mining stream, Jesse Peltan, CTO of HODL Ranch, shared his vision on how Bitcoin and other proof-of-stake projects will speedup innovations development in the energy market & adoption of green energy. Jesse believes that the incentivisation model imprinted in Web 3.0 economy can help humanity solve the energy crisis and the most fundamental challenges, such as hunger.
So definitely, there are hopes that Bitcoin can actually solve the energy crisis, rather than creating it, giving inspirations to other cryptocurrencies.
Future scaling and investment
The banking regulations update will make many institutional investors feel eager and protected to invest in crypto assets. Once tax issues are made clear, fraud prevention is in place and other regulatory issues are resolved then trillions of dollars will flow into Bitcoin and other crypto assets.
These are truly exciting times for the crypto market, with many new opportunities for scaling. However, the competition between thousands of cryptocurrencies and blockchains creates a new challenge for projects that want to get noticed and succeed – a challenge of creating a brand.
Should Web 3.0 projects follow a growth marketing approach or should marketing professionals update the growth marketing framework to make it a better fit for the Web 3.0 economy? What do you think?
We are sure that evolution never stops and we are ready to share our vision on how growth marketing should evolve to meet Web 3.0 challenges & help new projects skyrocket in a crypto-verse and beyond it. In the upcoming weeks we will be sharing our thoughts with you. Subscribe & stay tuned 🙂
Liking what you're reading?
Subscribe for more
Contact us
Reach new heights
Let's find the best mix of services to cover your business needs.