B2B content distribution that will help your company grow in 2023
Learn how to make tour content seen and valued by your target audience, all the time.
Download successful case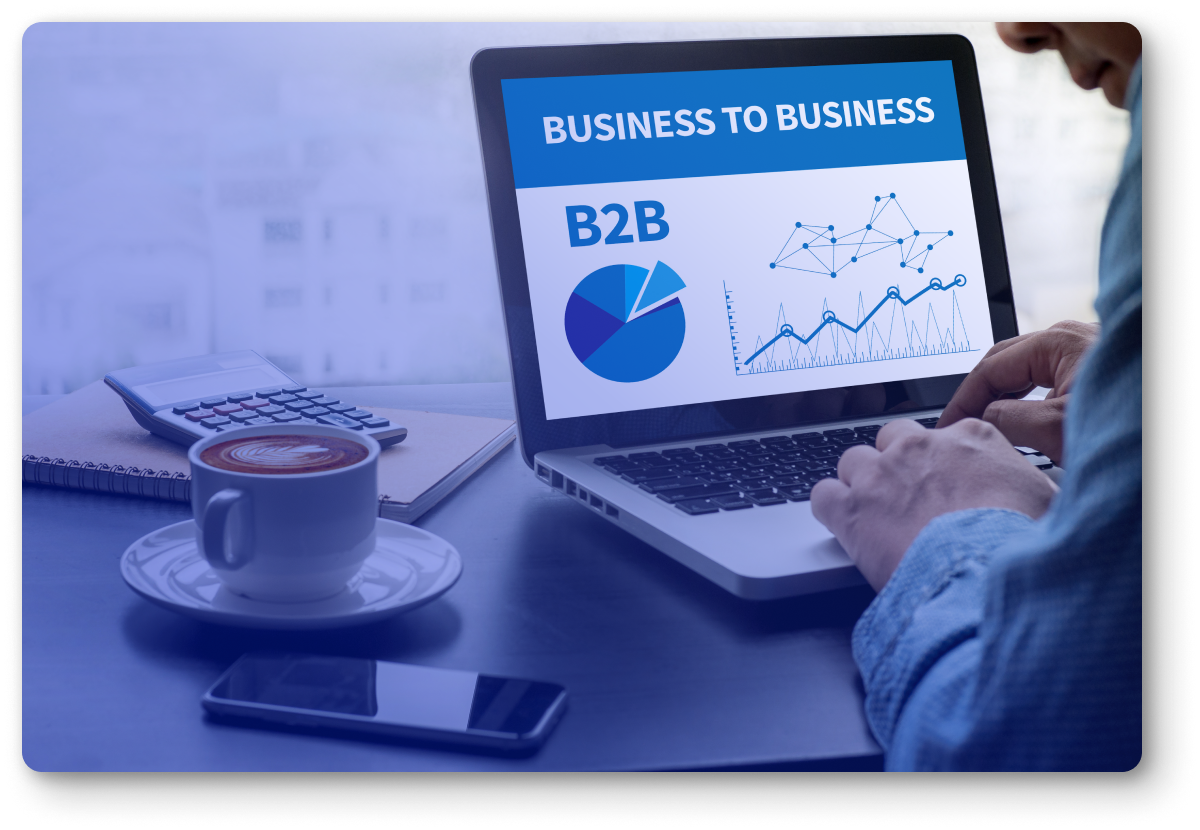 February 20, 2023
A company's growth strategy in 2023 isn't complete without a solid plan for branded content distribution, so how you share and promote the content you make.
But how important is online content distribution in marketing activities, anyway? Well, you need to ensure that the right people see your material at the right time and on the right channel.
There's no point in creating content if there is no way to get the word out about it, right? Increasing your reach, appealing to your target audience, and introducing your company to users who have never heard of your product is next to impossible without a proper content distribution strategy.
Why create a content distribution strategy in 2023
Promoting your service or product by distributing useful content to a specific audience across multiple channels builds brand awareness, brings in more leads, and boosts sales.
Increasing visibility and reach:
By distributing content through multiple channels, companies can increase the visibility and reach of their content. This can be achieved through distributing content, among other things, on social media, via paid and organic search, email marketing, and influencer marketing.
Becoming more cost-effective:
Creating a thought-through content distribution plan can help businesses reach their target audience at a low cost. In addition, companies can avoid wasting resources on channels that don't produce results by identifying the most effective distribution channels for their content.
Improving conversion:
By targeting the selected audience with suitable content and distributing it through the right channels, businesses can increase the likelihood of potential buyers seeing their content and converting it into leads or sales.
Learn how to plan your marketing activities for growth in 2023.
Content marketing distribution channels out there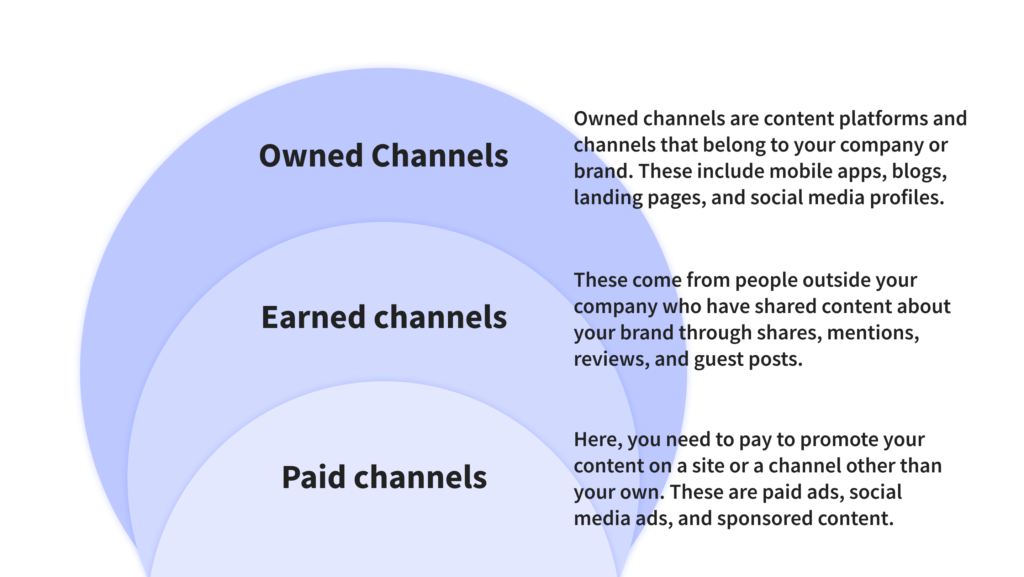 Unique content: one step closer to effective distribution
The truth is, even after you develop a B2B content marketing strategy and set eyes on distribution channels, there is no guarantee that your content will attract viewers, traction, leads, and sales—at least not before you start producing material that is original and captivating.
Publishing blogs, research, and posts is great, but if you're saying the same thing as half of your industry, potential customers won't find it insightful and won't click on any CTA links.
Top 3 approaches to B2B content distribution that will work in 2023
Approach #1: Social media as your company's power tool
Social networks like Linkedin, Facebook, Twitter, Instagram, and TikTok have enabled businesses to connect with and market to millions of consumers. Posts, infographics, videos, and other information can be shared on social media. It's also worth noting that although all social media platforms are free to use, they vary greatly in terms of audiences, usability, and ROI.
When it comes to distributing your content on social media, the most basic thing you can do is digest your blogs and post digested pieces to your profile. This may drive potential organic traffic to your website, but it does not guarantee that many users will see or engage with your post.
And that's where paid promotion and social media ads can save the day. Here is what you can do: Digest content pieces to create a promo campaign illustrating any insightful information for your target audience. This approach has a much higher chance of driving engagement, increasing the number of visitors to your website, attracting new followers, and possibly converting some followers into leads.
Another way to approach ad campaigns for social media distribution is to do A/B testing to verify whether your content hypothesis works. This way, you can learn more about your target audience without spending huge budgets on extensive, time-consuming research.
On a side note, LinkedIn is a great way to build credibility, show off your knowledge, have meaningful conversations with other professionals in your field, and grow the network for your company. Blogs, articles, comments, and discussions on LinkedIn will get people talking about your solutions.

Pro tip: Repurpose existing content for social media
By updating it with additional information, new calls to action, and links to other useful materials, you may repurpose old posts material and quickly win new leads and organic traffic.
Approach #2: Paid and organic search that will make you rank
As you already know, search engine optimization (SEO) is making information more visible in search engine results by modifying it following search engine guidelines, such as by adding relevant keywords, meta descriptions, and inbound links. B2B content marketing paired with SEO is a powerful tool that can help grow your company's visibility, reach, and traffic to its website.
SEO-optimized website
If your website and blogs are SEO-optimized, more users will visit your company's website if it has material that is both high-quality and addresses their requests, solves pains, or offers relevant solutions.

Paid search for blogs
Although long-form content is more likely to rank well in search engine results, and it is a good way to align content marketing distribution with SEO, it still pays off to put your blog on paid promotion in Google, so it ranks higher in the results page. Paid search for blog pieces allows you to determine whether it applies to a specific request that your target audience searches.
This relatively low-cost strategy can help increase the number of people who visit your blog and give a comprehensive insight into your audience's behavioral patterns.
Want to explore effective PPC tactics? Read our blog on PPC campaigns.
Guest posting
Another good way to get SEO and content marketing to work together is to write guest posts for other websites. Adding useful content to other websites can showcase your company's expertise in your field and reach new people.
Guest posting works well when you can put your brand's name next to your competitors and show off your competitive advantages. It is a free or nearly-free instrument, as you utilize an external website that is highly ranked by CEO and has great traffic. As a result, your company will benefit from free brand mentions, additional boosts, and more brand searches.
Crowd marketing
It is a great way to get users interested in a brand and research its product or services. As a brand, you can talk directly to leads, send the right message, explain the benefits of a product, and share experiences. Representatives for brands leave feedback, impressions, and reviews, which get people to interact with the company.

As such, crowd marketing helps to spark a discussion about the piece of content shared from your blog, social media, etc. Representatives for brands pitch the story from personal accounts on Quora, Reddit, or social media channels, leave feedback, engage in topical discussions, helping prospective leads to interact with your company.
Approach #3: Thought leadership, or get your C-levels posting
Thought leadership helps brands establish the decision makers on the inside as experts and leaders in their field. It can be used for many things, like gaining authority or raising one's professional profile. What's more, this approach raises brand awareness, improves the company's reputation, and gives potential leads a way in.
It looks like B2B tech professionals are always looking for great opinion leaders to follow — we say give them a leader. Thought leadership marketing isn't about making sales-heavy content. Instead, it's about branding decision-makers in your company as an expert who can draw attention to your business.
Distributing thought leadership content
One great strategy is posting such content outside your blog. Reaching the early-adopter crowd is easy through social media sites like LinkedIn and Twitter, sites like Medium, and industry forums. Guest blogging is another effective way to find a relevant audience interested in your thought-provoking commentary and to build authority in your niche by having your name and brand associated with other industry leaders.
Distributing press releases to industry-specific media
Distributing press releases to industry-specific media is one of the best ways to attract organic traffic to your website, research or news piece. Once you target industry-specific news channels, it is a way for your company to establish itself as an industry leader. Moreover, personal connection helps to pitch stories to media outlets more effectively; that's why journalists are more likely to include references to the Medium-based content produced by thought leaders than by some corporate account.

What are the other benefits?
Improve your SEO efforts by sending out press releases
Gain exposure in the media and boost your brand's profile
Make contact with key opinion leaders and experts.
5 business pains solved with a proper content distribution strategy
1) Reaching your ideal customers
One of the greatest difficulties for firms is communicating with their target customers. Creating a content distribution plan allows firms to zero in on the best channels and methods for reaching their audience and tailor their content to those platforms.
2) Boosting your brand awareness and reputation
Businesses may boost their brand awareness and establish their position as industry leaders by distributing high-quality, relevant information through various platforms.
3) Getting more quality leads
A content distribution strategy can also bring in new leads and increase revenue. Content marketing can help companies to nurture leads and move them down the sales funnel by addressing the pain points and interests of potential customers.
4) Strengthening the trust
Credibility and trustworthiness are cornerstones of long-term client relationships. As a business, you can gain your target audience's trust and respect by becoming an industry leader that produces helpful content which is easy to come across on the web.
5) Staying up-to-date
You should keep up with market changes and adjust your marketing activities with the support of a well-thought-out content distribution strategy.
Track and analyze your performance.
To analyze results, go over Google Analytics, your social media analytics dashboards, and your blog's performance after you've published your content based on how and where you shared it. It's best to set a regular time to measure and analyze (weekly, monthly, or quarterly) to get a baseline and understand which numbers you can beat in the next round.
Content distribution for B2B content marketing in 2023: Cheat sheet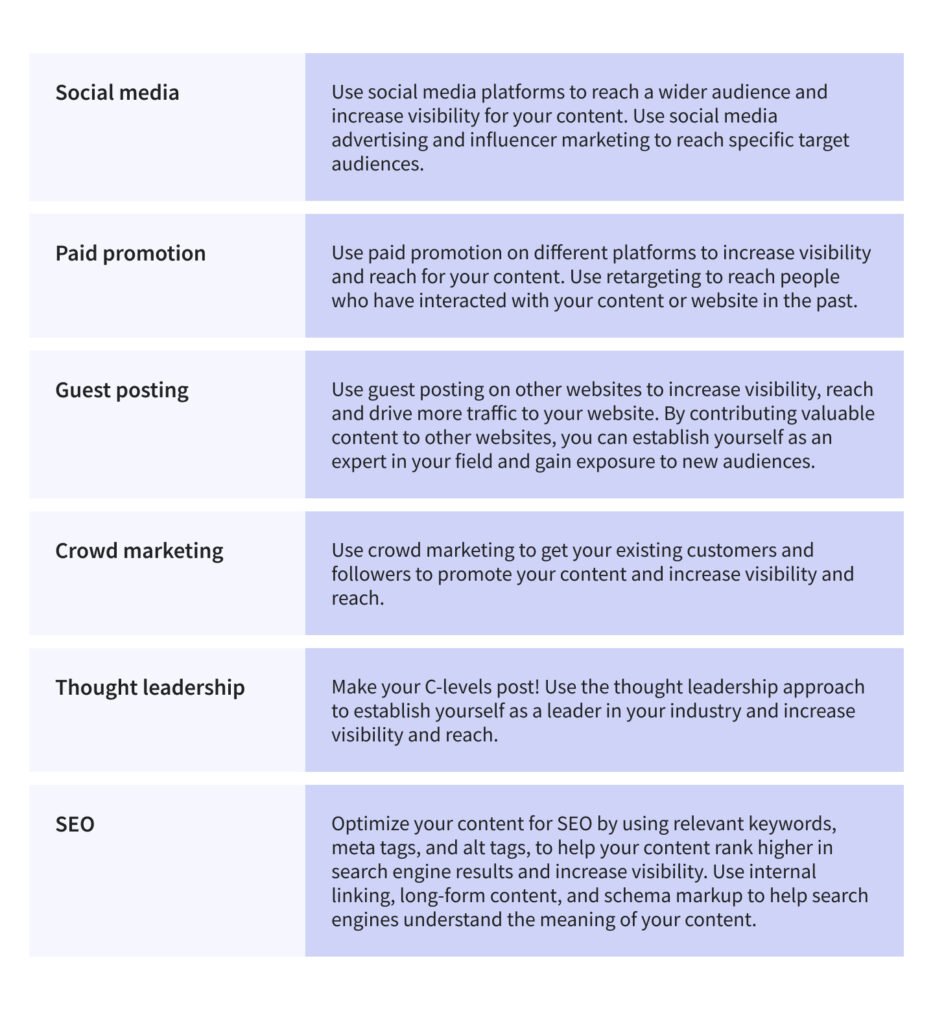 Making it happen
We are a 42DM agency that specializes in B2B and B2C marketing for a broad range of technology companies. We can help you set up the best digital content distribution strategy for your brand and help drive more quality leads to your website.So get ready to onboard more users and see those service sales go up with your new B2B content marketing agency!
Contact us
Reach new heights
Let's find the best mix of services to cover your business needs.