Fintech marketing: Using PR to build up your fintech brand in 2022-2023
Build trust and raise brand awareness for your fintech with PR strategies from 42DM
Download successful cases

August 18, 2022
PR can be a powerful tool for your fintech businesses to boost brand awareness, get third-party recommendations, and build trust with your target audience. Getting the attention of your audience in markets with low demand and explaining the essence of your innovative solution are two key challenges that fintech companies often face. Time and time again, we see that building long-term relationships with the media is a great way to reach new audiences and describe your product in different ways, which directly addresses these two challenges. As one of our recommended strategies for fintechs, we'll show you how to skillfully use PR in our blog — read how to do it below.
Why does your Fintech business need PR
Trust is a necessity for fintech business survival, as it is not easy to make customers entrust their money flows to a new company. PR is an essential tool to help your fintech business convince the market that you are trustworthy and secure. This idea of security and reliability of your business is best conveyed to customers through third-party reviews, such as media and news. Having your company appear in public also shows to your target audience that there are real people behind the product.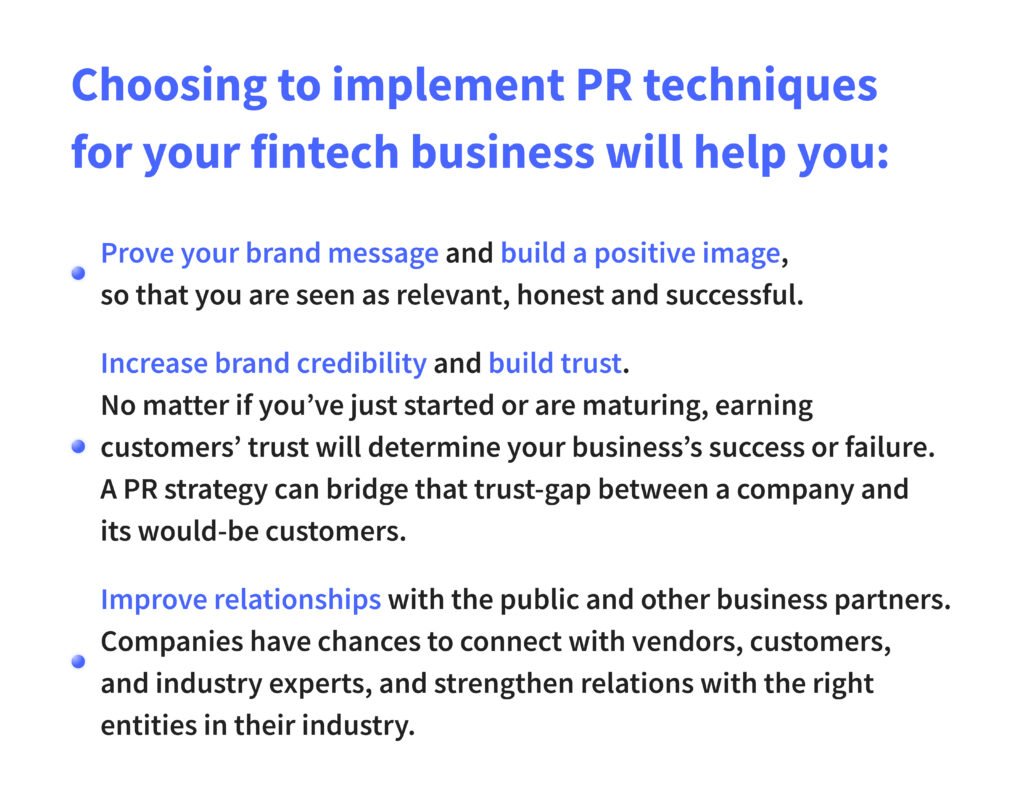 How to form demand for the fintech company with PR
There are many things to consider when choosing and implementing your Fintech PR strategy. Let's dive in: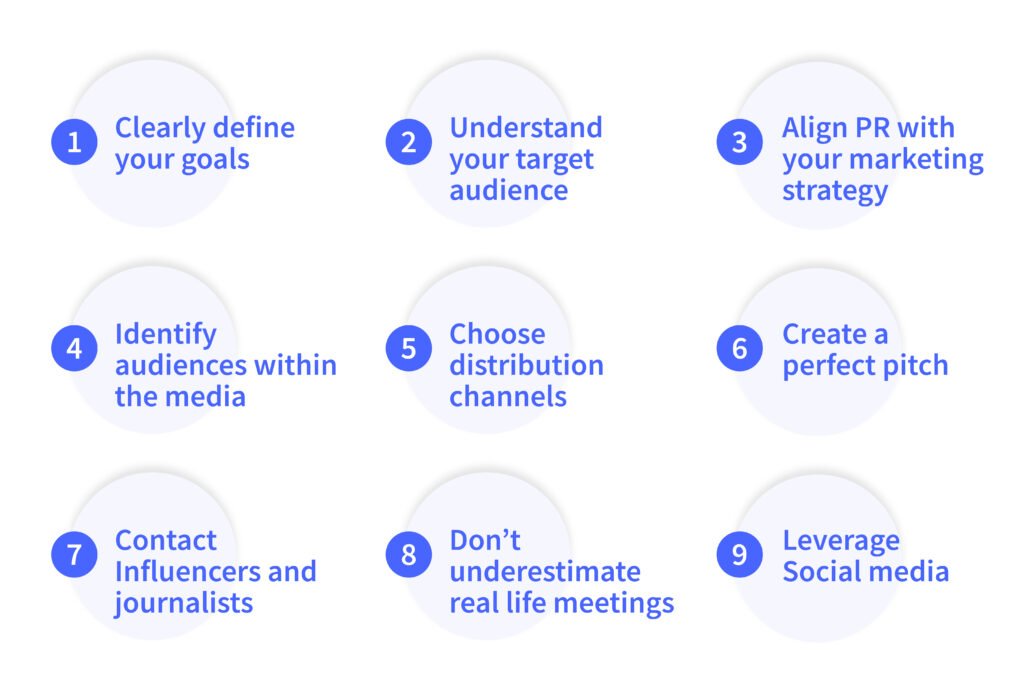 Clearly define your goals
Start by defining the goals of your brand's development, and then think which of them you plan to achieve with PR. Creating brand awareness is a good starting point, but you need to break it down into smaller, comprehensible, executable chunks. PR strategy goals that give you a clear sense of direction can be:
"Position my company as the leader in the X fintech space",
"Establish our founders as thought leaders on topics Y and Z in fintech", or,
"Communicate how my product outperforms the ones by my leading competitors." Keep them in mind always.
Understand your target audience
There are two categories that fintech businesses usually fall into — B2C and B2B. The difference in purchasing behaviors of these two segments define the way you will approach PR.
B2C consumers are motivated by emotional triggers, and tend to make purchase decisions quickly, if not on-the-spot. They simply research a product and make their purchase. The most efficient triggers you can use are excitement about making a purchase, or a fear of missing out on it. So, your B2C PR strategy should focus on creating an "on-the-spot", immediate demand for your product.
B2B buyers, however, are driven to buy products that will help their business be profitable, competitive, and successful. They are motivated by its cost and value, and take their time making a purchase. So B2B PR is all about building long-term trust in the brand, proving its security and value. Public relations for B2B requires more patience to stay the course as buyers move along their journey, which can take months.
When preparing to talk to the media, you should clearly understand who your audience is and what messages you want to impart to them. Then, concentrate on the tangible, evidence-backed parts of your proposition and let the superlatives come only from your satisfied customers. This will help you cut through the noise.
Align PR with your marketing strategy
Before diving into PR, make sure your company is well-prepared, and has an overall marketing strategy. Unlike paid advertising, where you can launch, test, analyze and scale quickly, building relationships with the media can take months and even years, especially if we are talking about industry giants. So you should have a clear understanding of your brand goals, target audience and the value you are bringing to them, as well as other marketing strategy.
It is crucial to prepare content materials in advance. Create a fintech content marketing strategy, a media kit with well-developed designs, photos and videos of your product, and a press-release. A press-release is not sufficient by itself anymore, but having a document with full info about your product, company and all relevant contacts will make you prepared to pitch to the media.
Identify audiences within the media
For PR that means identifying the reporters and publications most relevant to your product. Focus on writers who have written about similar technology in the past and on media outlets your potential clients are most likely to read. What steps do you need to take to make those reporters aware of your company and become engaged? FinTech brands don't need the most press, they need the right press.
When compiling your lists, pay attention to the position of the journalist: editor, correspondent or freelancer who collaborates with the publication and periodically writes content for the resource. In all cases, the focus of a pitch for each media representative can be different.
Choose distribution channels
When the company knows who its target audience is — its next step should involve determining which media channels to target. The fintech industry is huge and different areas may need different types of media channels. Some will need to target traditional media, including television, newspapers, and relevant magazines, while other companies may fare better by using digital media channels, such as social media, video platforms like YouTube, or niche forums such as Reddit.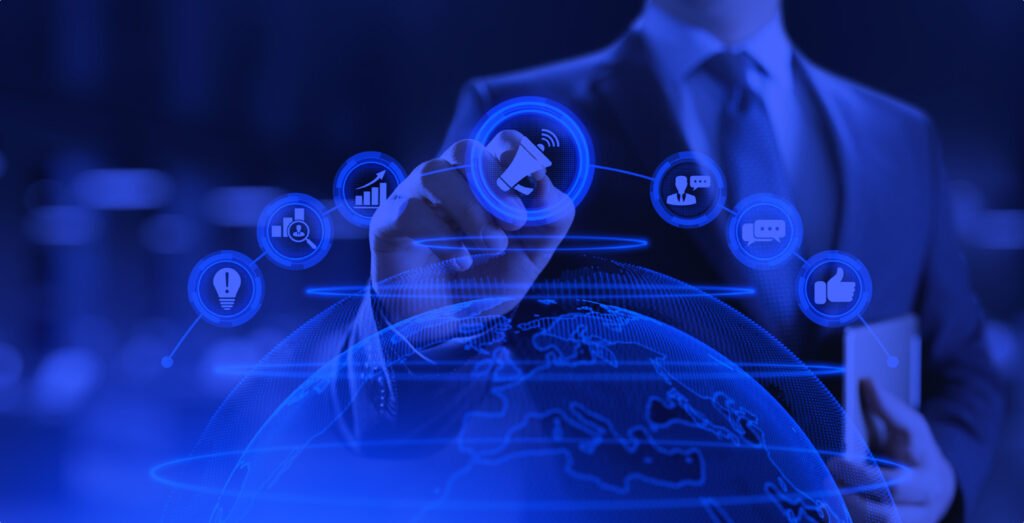 Create a perfect pitch
Getting journalists' attention is hard, as you need to cut through the noise of the competition. Make your pitch short — 100 words max. It should incentivize journalists to check out your press release and website, and test the product. In 1-2 sentences say why your product is valuable and original. While crafting your narrative, always think of the five Ws of journalism — who, what, when, where, and why.
The subject line is really important if you are sending an email, because it bares directly on whether your letter will be opened. Test it, try to be concise but get straight to the point. If you do not get a reply, follow-up on your pitch. The more a pitch looks like a simple human letter, the more likely it is to be read.
Contact Influencers and journalists
Choose the right channel and topic for your pitches to journalists. Before pitching, make sure that this is the best way for a journalist to find out about you. Western journalists are active Twitter users, often indicating in their profile how they prefer to receive pitches and can use private messages for correspondence. But don't be intrusive —if you have not "sold" your news and continue to write to a journalist, you can easily get banned.
Due to the higher incoming volume, many journalists do not respond to emails nor communicate their desire to write. In order not to take this as a personal insult, track the opening of messages. Modern tools allow you to find out when and where the letter was opened, from which device (on the go from a mobile or from a stationary computer), whether attachments were downloaded, or whether links in the letter were clicked. After evaluating the behavior of a journalist, you can write the follow-up, knowing what actions the journalist took with the letter, and which parts of it turned out to be really interesting.
Don't underestimate real life meetings
Real life conversations are always more efficient than an e-meeting, even despite the hype surrounding the digitization of everything we see now. For meetings with journalists from foreign publications, you need to use every opportunity. Big conferences are your best chance to connect with the press and get coverage for your product.
Meetings at events should be scheduled in advance. Find out if the journalist is going to the event and invite them to meet up. Do not expect to accidentally stumble upon the editor-in-chief of a world famous publication in the corridor and immediately make friends with them forever. In relations with the media, as in any harmonious relationship, common interests and mutually beneficial cooperation are important.
Study the biography of a journalist, find out what they are interested in. This will make it easier for you to keep up the conversation at a meeting and not have to start casual small talk with a pitch. By the way, what certainly shouldn't be done is to start pitching from the first minute of the meeting. Remember that journalists are also looking for quality news and newsworthy events, so cooperation can be productive and mutually beneficial.
Leverage Social media
Traditionally, the financial sector hasn't had the easiest time cracking social media. For instance, back in 2013, a survey by the Carlisle & Gallagher Consulting Group found 87% of consumers saw banks' use of social media as annoying, boring, or unhelpful.
The perception of finance brands around social media has evolved since then, largely because of FinTech startups
You should be where your audience is; that is, both the media you are trying to pitch to and the target audience you are trying to attract. So make sure active social media marketing is on the top of your marketing agenda.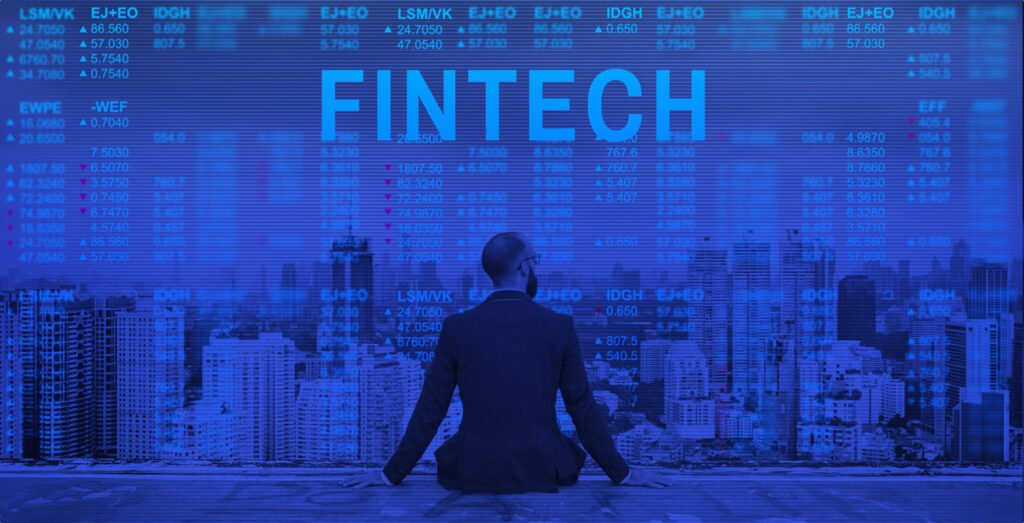 Fintech PR campaigns that worked
At 42DM we have been building fintech brands through PR since 2017, which has helped us to generate the top strategies you've read about above. Now let's look at two success studies in practice.
Creating inbound demand for a fintech brand before its launch
Our client was a crypto investigation & data analytics tool that could help understand suspicious crypto transactions. Our goal was to build initial awareness and generate the inbound demand for this early stage startup, which hadn't launched their product yet.
We created a PR strategy for B2C and B2B segments. After diving into audience research, we found out that individual consumers appreciated outcomes that analytic tools allowed them to get rather than the functions of the tool itself. Crypto had a lot of fraud, so we helped to educate people through "how-to" content about avoiding fraud, finding trustworthy crypto exchange platforms, and so on.
Our B2B segment consisted of traditional banks, who wanted to manage their clients' crypto assets, but needed to make sure these assets were legal. In addition, crypto was challenging to manage across different markets due to varying legal standpoints that countries employed. We decided to help banks navigate markets around the world safely by creating county-specific research. Our first research helped to uncover the potential of the crypto market in Estonia, and immediately became newsworthy content for all leading crypto media. Not only did our client's product feature in all leading media, but Estonia raised the price for crypto business registration after our content was released, directly linked to rising demand within the country.
We also uncovered the mass movement of assets across the Ethereum network — all belonging to one person. This became newsworthy content for both crypto and traditional media. Through this story we demonstrated how our virtual crypto investigation tool provided value for both B2B and B2C audiences, even before its launch. After establishing contact with leading industry media, we provided them with more content that promoted our client's value to its target audience.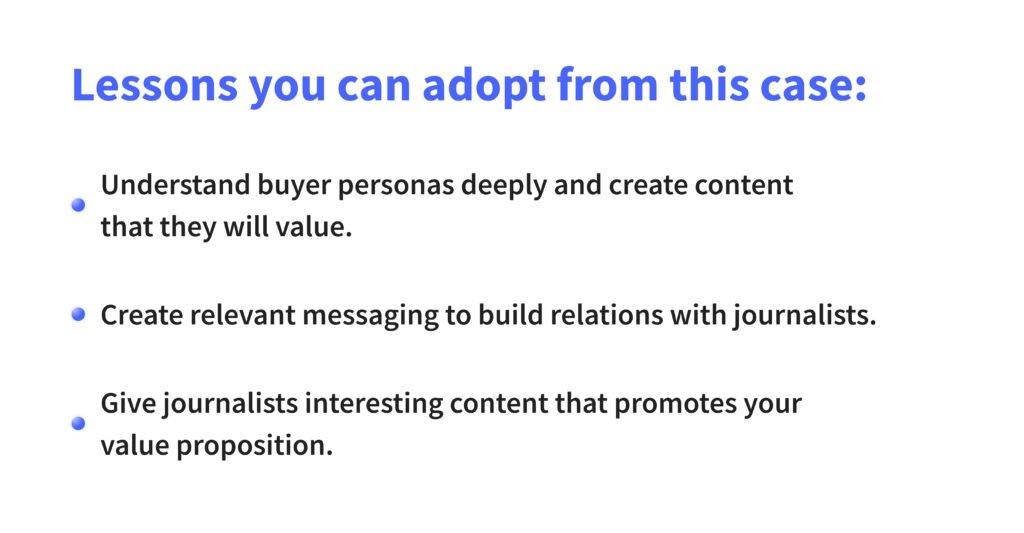 By doing that in just 4 months we built relations with 20 different media outlets and received more than 200 publications, achieving approximately a million views generated by our content with zero budget for promotion. This helped us generate demand both for B2B & B2C audiences for a product that was in the early Alpha stage.
Forming a manageable brand reputation
Another of our clients was a cross-border digital payment platform. Before they started doing PR, their brand reputation was formed from the experiences with the brand shared by people all over the internet. These project testimonials were not aligned with our client's business mission and target. We helped them to take back control of their brand reputation online and implemented a PR strategy that established the brand as a top tier player in the fintech industry via media relations/PR, content marketing, speaking opportunities and awards.
We built strong relations with the media by providing them with relevant and exclusive content. We used a huge set of data the client had generated and shared marketing insights, which helped individuals to navigate the market. We also provided newsworthy statistics.
Partnering with leading business media, we worked with the client's top management to share their expertise & become KOL for the fintech market. In addition, we invited customers to publish their experience using our client's services, making sure these publications fully aligned with our business strategy.
Finally, we focused on developing local partnerships to help our clients solve their problems. During first year we managed to get more than 400 publications in media, we rebuilt online reputation for the client and fully aligned it with clients business goals & positioning. Next year, the publications amount grew to 1623. As a result, the client became a top-mentioned fintech platform.
Start building your fintech brand with PR
If you want to start building trust with your potential clients and boost your brand awareness, start by implementing the strategies above. Of course, managing PR activities and establishing relations with leading industry media can be a complicated thing to manage alone, so we are happy to share our knowledge to help your fintech brand prosper!
Contact us
Reach new heights
Let's find the best mix of services to cover your business needs.