How to do growth marketing for SaaS products in 2023
A proven 5-step ISTAS growth marketing framework that helps SaaS products strategically grow and generate revenue in 2022
Download successful case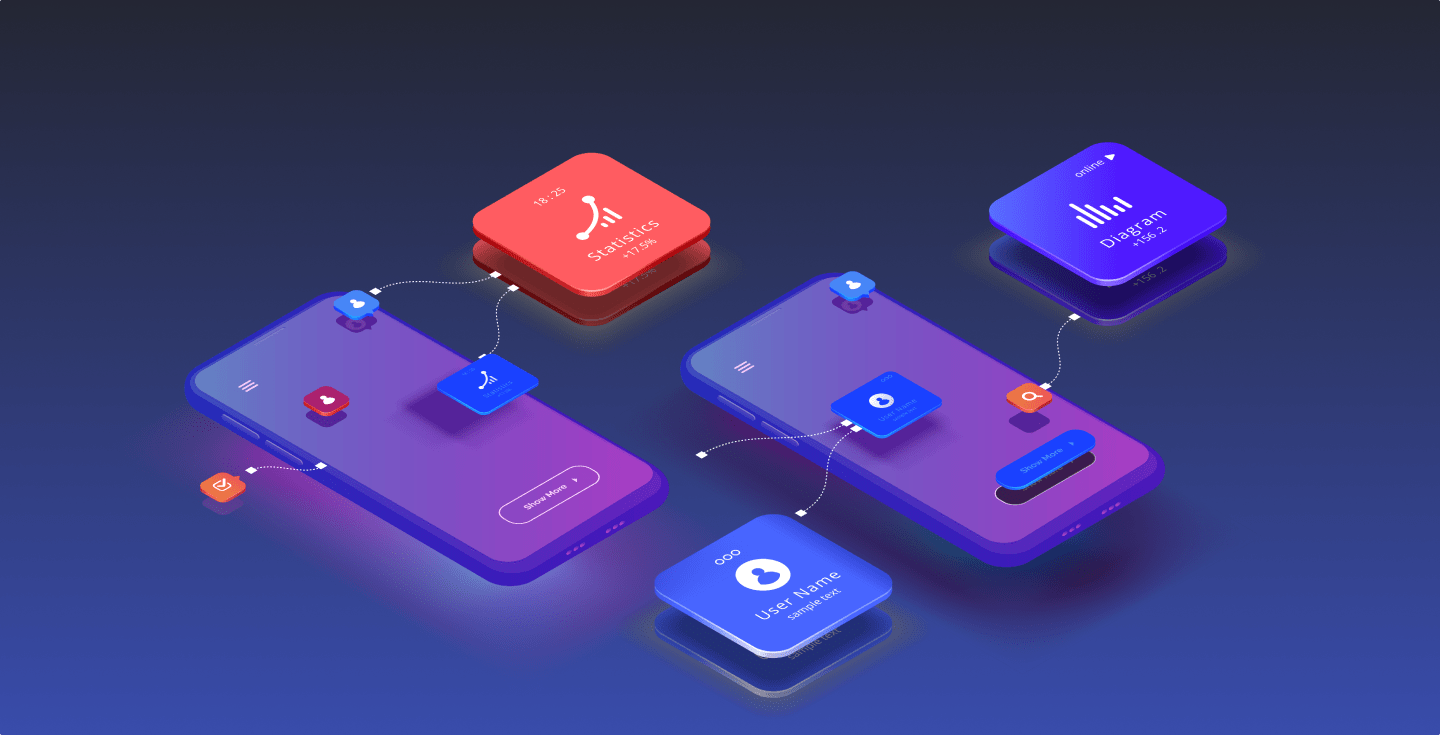 May 16, 2022
SaaS (Software as a Service) is considered a highly profitable business model, and venture investors prefer such businesses even now, in times of economic downfall. With plenty of market opportunities available, it is crucial for SaaS businesses to choose the right growth strategy to scale efficiently. While selecting the appropriate marketing mix to create brand awareness and customer loyalty can be challenging, a growth marketing approach is an efficient way to scale a SaaS product in 2023 strategically.
Growth Marketing VS Digital Marketing
Before diving deeper into SaaS marketing, let's understand what growth marketing is and how it is different from more widely known digital marketing.
Digital marketing is an umbrella term for any marketing activity done on digital platforms, online. It is a set of tactics applied digitally, like SEO, PPC, email marketing, and social media management. While digital marketing aims to attract and retain customers, it does not have a specific guiding strategy.
Growth marketing is a methodology based on creating a strategy to achieve business goals. It emphasizes a data-driven approach, experiments, analysis, testing, & ways to boost revenue. Its primary goal is to deliver measurable growth to your SaaS business.
Growth marketers often focus entirely on business growth and look for out-of-the-box ways to scale a business.
The biggest difference between digital marketing and growth marketing is methodology. Growth marketing emphasizes strategy and measurable goals, rather than a set of tactics. They are not mutually exclusive, as growth marketing uses digital tactics with a strategic mindset, but its main goal is to ensure your company's measurable growth – and scaling.
Principles of Growth Marketing for SaaS
When applied in the right way, growth marketing can work amazingly well for SaaS companies. The challenge is to build a scalable growth marketing model, which will include SEO, PPC, and much more than that.
Marketing is getting more and more challenging for B2B SaaS products, due to the high cost of clicks in paid search, limited relevant demand in SEO and extreme growth of CPM in B2B social media. Most categories have met the same challenges to grow their products in 2021.
But, if you have a strong growth marketing strategy, you can overcome these challenges easier.
Let's look at the marketing automation category as an example.
While marketing automation was searched 37 000 times, Hubspot was searched by users 821 000 times.
How did they do it? Hubspot decided to go beyond the borders of the email marketing & marketing automation category and invented their own. That helped to build an inbound demand for their brand 20 times higher than the initial category!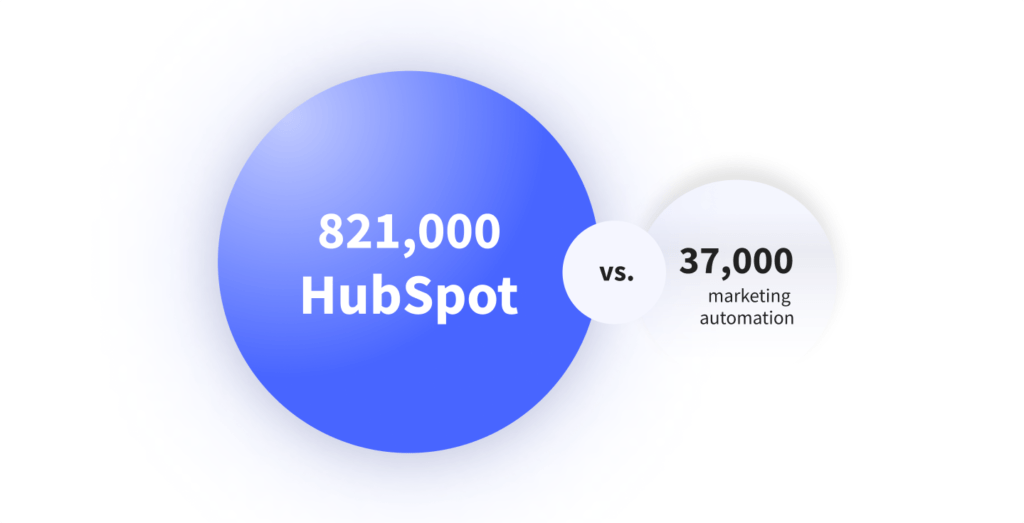 Hubspot made its growth marketing successful by going beyond the existing category. They were able to build a content marketing platform for their brand so powerful that it became a brand itself. Now we call it Inbound Marketing. A strong growth marketing strategy can help your SaaS company win and achieve your goals faster.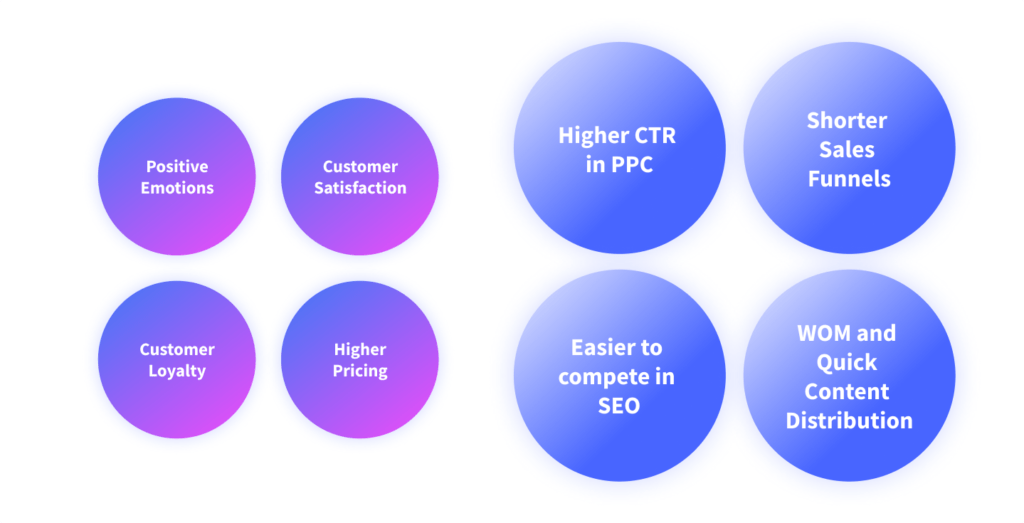 Growth marketing also delivers your SaaS business the biggest ROI – because it makes your company implement specific goals and then strategically work towards achieving them. But how to build a brand and a growth marketing approach for B2B SaaS products most efficiently?
ISTAS: Growth Marketing Approach that works for real products
After managing 250+ successful projects at growth marketing agency 42DM, we have accumulated our experience in a tailored 5-step growth marketing approach that helps our clients to scale their businesses and reach their goals.
Our framework ISTAS is the evolution of agile marketing and insight-based strategy. Its main idea is the repeatability of your marketing success by following a stage-by-stage process. It has 5 stages – Ideation, Setup, Testing, Analysis and Scaling. This framework is key to creating and implementing an efficient SaaS growth marketing strategy.

Ideation
This is the foundation of your marketing plan. It is the time to form relevant targets and KPIs, craft communication ideas, and draw up evidence-based marketing hypotheses to test.
Research your market and audit current performance. Based on this research, you need to identify the benchmarks and set up the initial targets to reach.
Uncover and discuss compelling insights about your customer and market. This will help you to find the brand connection based on insights to challenge the consumer problem or need.
The final step is to identify the core directions to test, build the architecture for each content territory and then develop a list of content marketing ideas to test
Setup
After receiving basic ideas of your goals and direction for marketing in the first stage, your goal is to prepare your marketing to actually implement your ideas. So, it is time to set up analytics systems and dashboards, bring together all relevant marketing tools, and establish interaction between all your channels.
Testing
Result-oriented growth marketing is all about making data-driven decisions, which requires testing the hypotheses, acquired during Ideation, in the real world. At this stage you need to choose a shortlist of marketing hypotheses based on all of your strategic research and validate them through the launching of test campaigns.
Analysis
Then, you need to conduct an in-depth and detailed analysis of the work done and tested to adjust your strategy, relying on the data and results from test campaigns.
Scaling
Yay, you've tested your ideas and got the results! It's time to scale. It is time to find a final team to implement your marketing initiatives and plan your next steps for future growth.
How 42DM helps SaaS to grow
Let's review how we implemented the ISTAS growth marketing framework for one of our clients!
Basis: A SaaS company approached us to help them build a growth marketing strategy. Their Product was a note-taking app for online meetings.
Ideation: After researching the market and auditing the app's current performance, we realized that the demand for the note-taking app category is quite small. Therefore, we offered the company to go beyond the zoom notetaker category and go to the territory of making business communications meaningful and effective – a category with promising demand.
Our general idea was to sell the Product through value, and not just Product features it provides – taking notes during meetings so that business professionals can focus on meaningful conversations online.
We formed 4 hypotheses:
Make the most out of existing demand in the note-taking app category
Go beyond the existing category and work on a wider field
Adjust customer acquisition strategy to focus on paid customers and not just new accounts
Create buzz around the Product
Setup:
Next, we needed to put all existing marketing in good shape. The company had scattered data and lacked a single point of truth to measure its success. We analyzed the current ecosystem, developed technical assignments and metrics systems in their marketing data stack so that they can track deeper user engagement.
Also, we adjusted the website, transferred it to WordPress, and developed a lot of content to fill in the info field to show that the Product is more than just a note-taking app.
Then, we performed an audit of existing content and re-launched blog and social media to shift emphasis on the value of the Product and match users interests. We adjusted existing blog content, optimizing it for SEO to perform better.
Testing
After updating the existing marketing mix, we moved to test our 4 hypotheses and see how they work in the real market. For that, we developed a pool of landing pages for each of the Product's features. Then, we started generating content about business communication and how to make it online as efficient as it would be in person.
Our inbound marketing strategy included content marketing and off-page optimization for organic growth, Product Hunt to drive Brand awareness & trust and a PPC campaign in paid search to make cost-efficient scaling.
Finally, we performed a search campaign optimization focusing on paid users and not free accounts to optimize & scale paid customer acquisition and tested lead gen hypotheses – lead magnet campaign for top-funnel lead generation.
Analysis
During analysis, we saw that all 4 of our hypotheses proved to be true.
We managed to increase organic traffic by more than 300%.
The number of keywords for which we rank has increased from 378 to 6.173, which helped us to grow organic visibility by 1044%.
The blog has grown from zero to 1.25K monthly clicks since in 5 months. Both blog and integrations landing pages bring conversions. In total, 861 accounts were created from organic channels in 2021.
Launching on product hunt helped us win Product of the Day award and get +912 unique visitors.
We made the data right by auditing current analytics systems installed on the client's side, identifying the gaps & developing the technical assignment to fulfill the gaps both from the tech stack & from the data structuring perspective.
Scaling
The initial strategy for this SaaS product worked well, as proved by the analysis of numbers. As a result, the Product caught its momentum and was acquired by another company.
At growth marketing agency 42DM we use the ISTAS approach to create a SaaS marketing plan for high-growth companies. We believe that such a strategic framework is the best way for SaaS products to build their marketing and scale quickly and efficiently.
Contact us
Reach new heights
Let's find the best mix of services to cover your business needs.