Is there a future for SaaS in 2023?
The upcoming recession is predicted to stimulate hardship for SaaS market. Explore the possibilities of SaaS collapse and how to avoid it.
Download successful case

September 27, 2022
The software-as-a-service (SaaS) model has skyrocketed in popularity in the last few years as it continues to offer cutting-edge solutions across a wide array of industries. This business model peaked during Covid, with people being tethered to their computers fuelling mass demand for different kinds of software. However, over the last months, the economic situation has not been as kind to SaaS. When people have to cut spending, investing in software innovations stops being a priority. In this article we explore the possibilities of an SaaS collapse and what you should do to avoid it.
The current state of the SaaS market
The US is officially in a pre-recession state, and this is having a huge impact on SaaS businesses. Most founders still remember their companies absolutely exploding in numbers in the recent past: people chose to work remotely during Covid, forgoing a lot of face-to-face interaction, which directly influenced the demand for remote and productivity SaaS products, such as Zoom and Twilio.
However, as the Covid era ended, so did the SaaS firms' dividends, and the impacts of the recession started to show. Many SaaS businesses have discovered that their clients no longer require their services. There is also pessimism among investors and the general public regarding the market's prospects, which are being hampered by inflation, falling demand, and a persistent economic downturn, causing a ripple effect.
The performance of SaaS enterprises will be the first to be impacted by such a significant economic slump, because the SaaS market is so vast and serves a variety of countries and industries.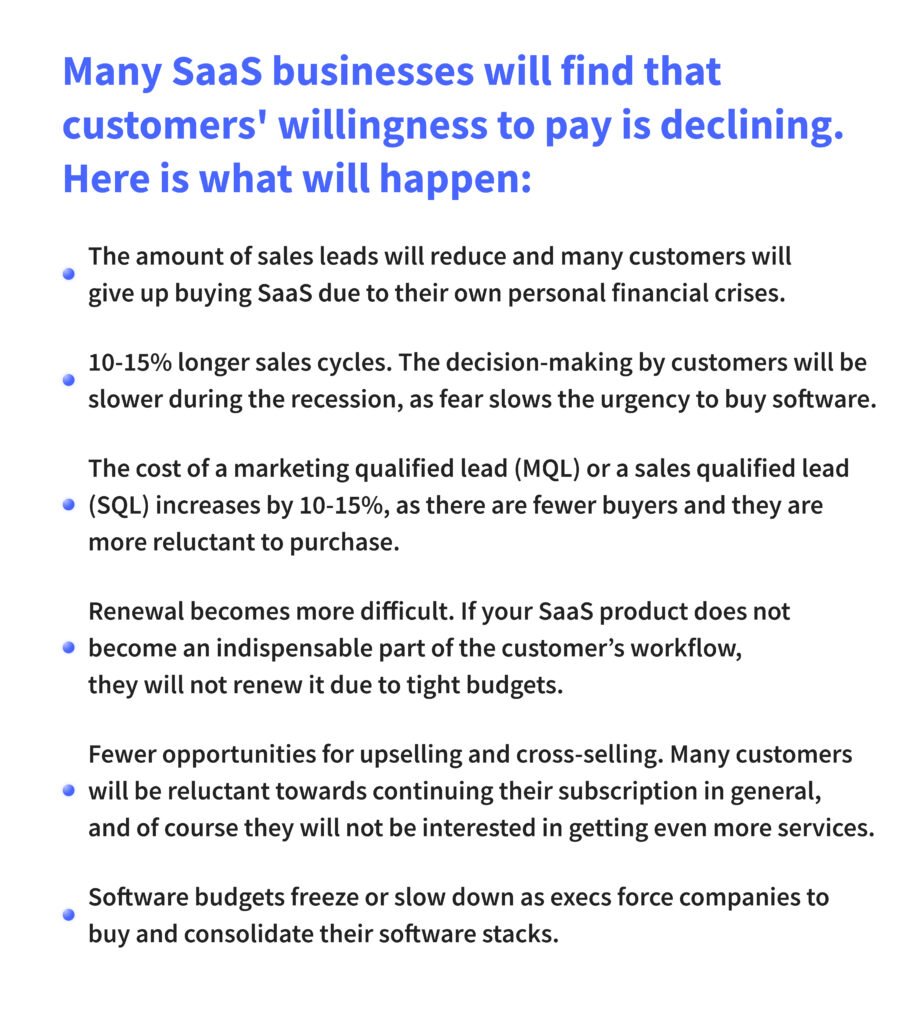 As we can see, SaaS businesses are in danger of reaching the market limit. But is there a way to go against the trend and save your SaaS business? Let's explore further.
The future of SaaS
In a recession companies with less value tend to fade away while real innovation takes place. Microsoft was founded in a recession, as were payments juggernauts Venmo and Square. Uber, Airbnb, Slack and WhatsApp were also products of the recession. Then there were game-changing inventions like the iPad. Even American staples like chocolate chip cookies and the game of basketball were created during tough economic times. Secondly, the companies with the least value fall away.
By re-examining the role of SaaS applications in businesses at the present juncture, companies can get rid of costly subscriptions that yield minimal value yet maximize complexity while at the same time improve the customer experience — an imperative in a down economy.
As budgets become more constrained, decisions are based on who can meet their specific needs best. Experience is how companies will retain customers and add new ones; it is how companies will make it through the recession.
So, improving your product is the best method to get through tough times. Only high-quality products can sustain sales during a downturn and expand swiftly during an upturn.
So SaaS isn't dead; rather, it needs to innovate to provide maximum value to customers.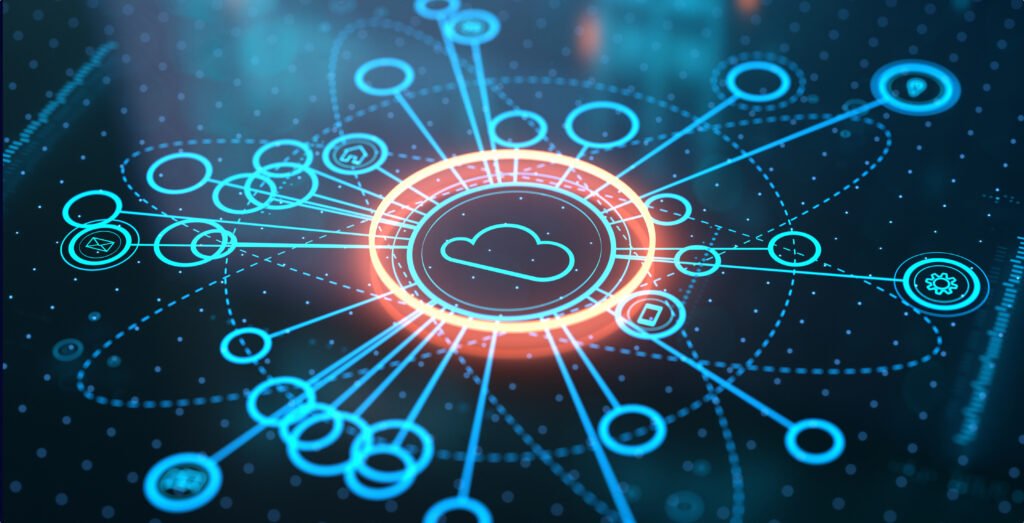 Tips for successful SaaS marketing during the recession
So we have established that creating a high value proposition and reminding the customers of your relevance is the ultimate way to get your SaaS business through recession and beyond. This can be achieved with a strategic growth marketing approach.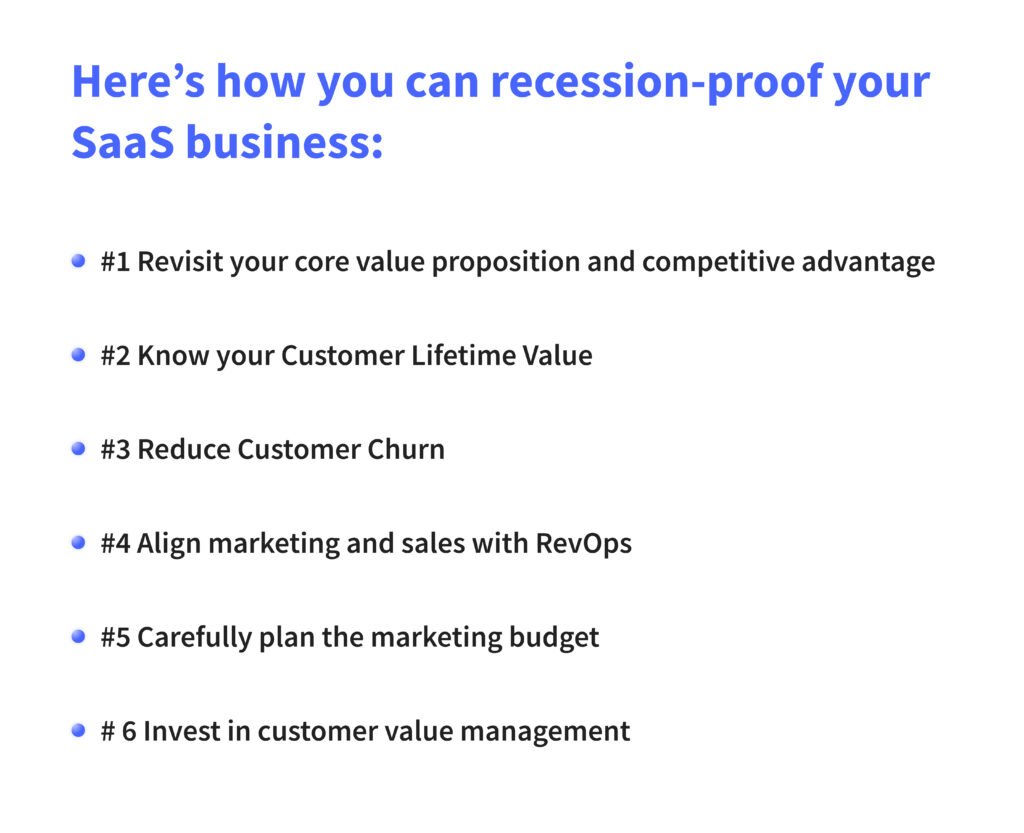 #1 Revisit your core value proposition and competitive advantage
As the economy changes, so do customers' priorities. Your core value proposition must adapt to meet their needs. Companies that don't prove their worth will be the first that clients cut when they look to reduce their budgets.
The best way to do this is to always keep in check how well you deliver the value you promised your customers; for example, by reviewing your client's ROI and course-correcting your propositions on a regular basis. Establishing this practice before the recession is in full swing will enable you to build a track record of success. Ultimately, it's the customer who decides whether the value the software provides justifies its cost, so listening to the client is key.
#2 Know your Customer Lifetime Value
Your Customer Lifetime Value (CLV) is the measure of how much revenue a customer will generate over the course of their relationship with your company. If you don't know your CLV, you'll have a hard time making informed marketing decisions.
For example, if you are trying to choose the audience for your new marketing campaign, you can use CVL to determine which group of people is better to invest in. The Hubspot online CVL calculator can help you with this.
#3 Reduce Customer Churn
During economic instability, the first step is to categorize all your clients based on their financial health and analyze the businesses and industry sectors affected the most. Financial health planning gives a blueprint for all subsequent actions to slow the churn rate.
With this, you can then help clients at risk to survive the crisis through educational materials, fostering loyalty. For example, during the pandemic, many SaaS companies like Salesforce and Zoho went a step further and started offering small business grants to at-risk companies.
#4 Align marketing and sales with RevOps
Marketing, sales and service providing departments must be aligned so that companies can consistently deliver on their promises. Before customers are even approached for a sale, they must have a good understanding of what the product can do for them and how it differs from other options. Then you need to keep delivering on your promises to prolong the CVL.
To that end, we recommend looking into revenue operations (RevOps), a business function that aims to maximize the organization's potential. One way is for marketing to shift its mindset towards a more outcome-oriented approach. Hiring a growth marketing agency to do market research and determine ways to align sales, marketing and customer success in one system can be a worthwhile investment.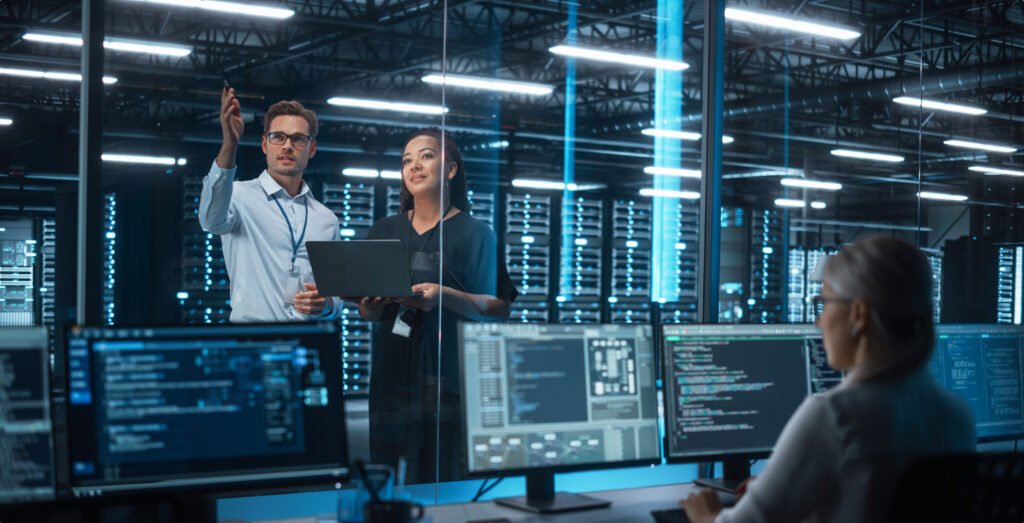 #5 Carefully plan the marketing budget
Sometimes marketing budgets can overshoot even R&D costs and other essential needs. Hence, they must be kept in check during a recession or financial crisis. Companies like Salesforce, Tableau, and Oracle dedicated more than 20% of their revenue to marketing. In contrast, Zoho cut down almost entirely on its Google Ad spend to tide over the pandemic despite having a healthy cash flow.
The trick is to find a balance between the two. Cutting investments in sales and marketing leads to lower revenues, creating a vicious cycle.
# 6 Invest in customer value management
In a recession, your business is competing not only against others in the industry but also against other uses of the customer's resources. To ensure that you prove your value to key decision-makers, create internal champions of your product. That means sitting down with the client and going over the value equation to show them specifically what your software can do for their business.
Growth marketing to recession-proof your SaaS
As we know, traditional marketing focuses only on the top part of the funnel, whereas growth marketing uses data to formulate insights into a strategy that drives acquisition and increases customer lifetime value. Growth marketing is a full-funnel approach designed from the bottom up for developing a SaaS company. It is a way to experiment and test critical growth hypotheses while also laying the groundwork for long-term customers who would use and appreciate your brand.
Growth marketing approach is precisely what we recommend to adopt while trying to recession-proof your SaaS business. If you need more insights on how to strategically implement the above-metioned tips for SaaS success, then schedule a free consultation with our professional growth advisor!
Contact us
Reach new heights
Let's find the best mix of services to cover your business needs.