Proven PPC tactics for effective SaaS marketing in 2023
Learn how to make PPC campaigns for your SaaS business efficient and cheaper in 2022 with our best practices.
Download successful case

June 7, 2022
SaaS is a reliable and therefore attractive business model, from the standpoint of both founders and investors. Despite this competition in the market is high and demand is growing slowly. To stay at the top of search results, SaaS companies tend to choose paid ads, which often end up being extremely costly and inefficient.
However, this is not necessarily a cause for concern — we have tested multiple approaches to efficient paid advertising with our SaaS clients and generated top tactics on how to run effective PPC for SaaS in 2023.
Define clear goals to keep your PPC campaigns in check
Effective campaigns require a set strategy; you need to clearly understand your goals and measure your progress towards achieving them. This will help you control your monthly spend, keep your PPC campaign performance in line with your expectations, test new hypotheses more effectively, and understand if your performance goals are realistic in terms of advertising cost.
Define your goals. Performance marketing for SaaS relies on clear goals you are aiming to achieve inside the product funnel. They could range from simple ones like button clicks and completions, to the deeper ones like subscriptions or purchases. Goals can help your PPC campaign to work more in the direction you need.
Build benchmarks for performance measurement. To get an answer on whether your PPC hypotheses are working or not, you need to analyze your benchmark and optimize PPC if needed.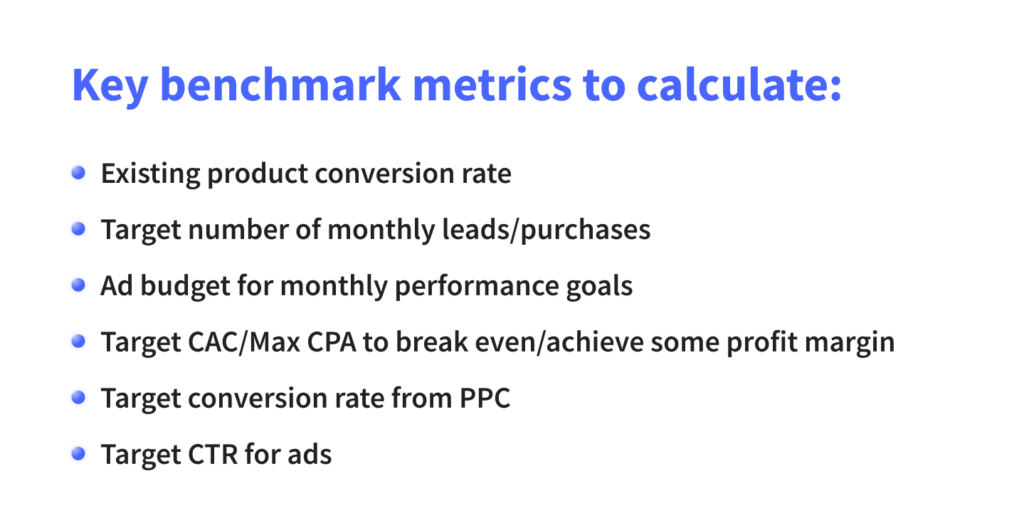 Build an effective PPC landing page
When you are paying per click, you should provide customers with highly relevant and engaging content from the first moment they click on your ad. Adding hyper-relevant content to your landing page will help you increase your conversion rate, receive high quality leads, and educate users about your features and benefits.
Develop a benefit-focused offer to use in ads and landing pages. The best way to boost product conversion is to create an offer that delivers value to users (discount, free gift, PDF, E-Book, free webinar, and performance product features, and/or competitor-beating product benefits). You should ground your ad angle around your powered-up offer to generate interest in what you deliver.
Make your landing page funnel-like: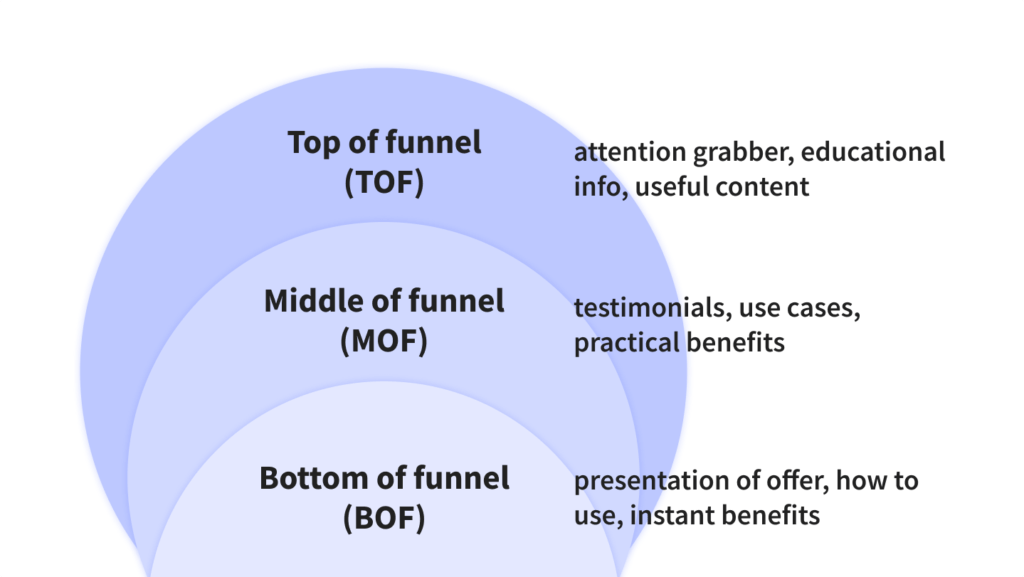 Follow best landing page (LP) creation practices. Align the UI/UX of your LP to the product website. Make it look obvious, clean, and easy to navigate.
Make it technically perfect. Check load speed, mobile-first mindset, and adaption to all browsers.
Polish up your lead-generating mechanism by creating several options for lead generation. Do A/B tests of those variations in campaigns and install session recorders to watch user flow heatmaps and real-life behavior.
Develop your keyword strategy
Keywords are words or phrases that people put in search when looking for something you offer. Choosing the right keywords helps to target users who are already interested in your type of product or are searching close topics and can be engaged in your product in the near future.
You can do your own keyword research based on your business niche, or, you can see what keywords your competitors use by parsing them with tools like Semrush/Ahrefs to analyze their keywords.
After keyword research, make clustering for different stages of the funnel:
Clustering helps you split your budget between the keywords with the best potential to perform and understand how you can scale. Also, don't forget to develop negative keyword lists beforehand to exclude potential losses due to irrelevant traffic.
Informational keywords are used when users are searching for more information about something. Usually these are very cheap but low performing keywords.
They are good for scaling when you don't have enough traffic for MoF and BoF keywords, when you have high competition with expensive traffic on the lower part of the funnel, or when you have a difficult product and need to be with users at each stage of the funnel.
Commercial keywords are used to attract users who are ready to buy/subscribe to your product. They can be quite expensive but usually have a high conversion rate.
Examples: buy pdf editor, monthly subscription for pdf editor, soc2 audit.
If you have a difficult product we recommend creating specific converting landing pages where you describe your benefits, features, how to use your product, and add CTA buttons.
Competitors' keywords can attract a hot audience because users already know what they want and look for the name of a brand that proposes similar products. In this case, it is crucial to give the correct information; for example, in your LPs, you can describe why your product is better than others on the market and what benefits users can get.
Focus on long tail keywords
Long-tail keywords usually have a low volume, therefore not too much traffic, but a high conversion rate. We recommend always using this type of keywords, especially when you have a limited budget or a specific product. This will help you avoid competition since longer keywords mean increased user awareness, and you can target hot audiences.
Examples: convert documents from word to pdf online, architecting for hipaa compliance on aws.
Target exact variants of long-tail keywords. Make sure it has a volume of at least 10+ searches a month. Use Keyword Planner or Semrush/Ahrefs to check.
Use at least 5-10 long-tail keywords in one campaign. Create highly relevant ads based on the content of those keywords to lower the CPC and increase the CTR.
Determine audience carefully
Create your audiences for GDN (Google Display Network) using a product-first buyer persona portrait. Test out different audiences in Google Ads. Use both standard variants with interests and in-market topics as well as create custom variants based on keywords, users who visited websites/apps relevant to your product or use look-a-like for remarketing of your website.
Cycle ads regularly
Ad cycling lets you know what communication works for your business/product in the best way, helping you create the effect of omnipresence — different ads build up awareness and education about your product among the target audience.
Test new ads regularly. The ongoing creation of new ads is 100% bulletproof if you want to solidify campaign performance on a good level. Ads tend to burn out, and old campaigns fade in performance after some time. That's why cycling new ads monthly or biweekly lets you build on top of already successful campaigns and reach new PPC heights.
Add new ad copies to existing campaigns to make algorithms re-learn. If you see declining performance, this strategy is right for you. Create separate campaigns for working days and weekends. Use different value propositions and UI/UX according to this strategy.
Use remarketing
Remarketing can increase your product conversion rate and help you better reach users to educate them about the product. You can also use it to promote more compelling or additional offers.
Traditional remarketing: Use GDN and YouTube to remind visitors about your product. Try to persuade with a good offer or get 2-5 touches with a visitor to warm up and boost product awareness. Start with a 5-10k of audience size in Google Ads to get good traffic volume.
If you have enough traffic (for GDN, at least 100 active members, for YouTube, at least 1000 active users for each audience), create separate audiences for each part of the user journey and propose specific offers for each audience. At different stages, different things motivate users to convert.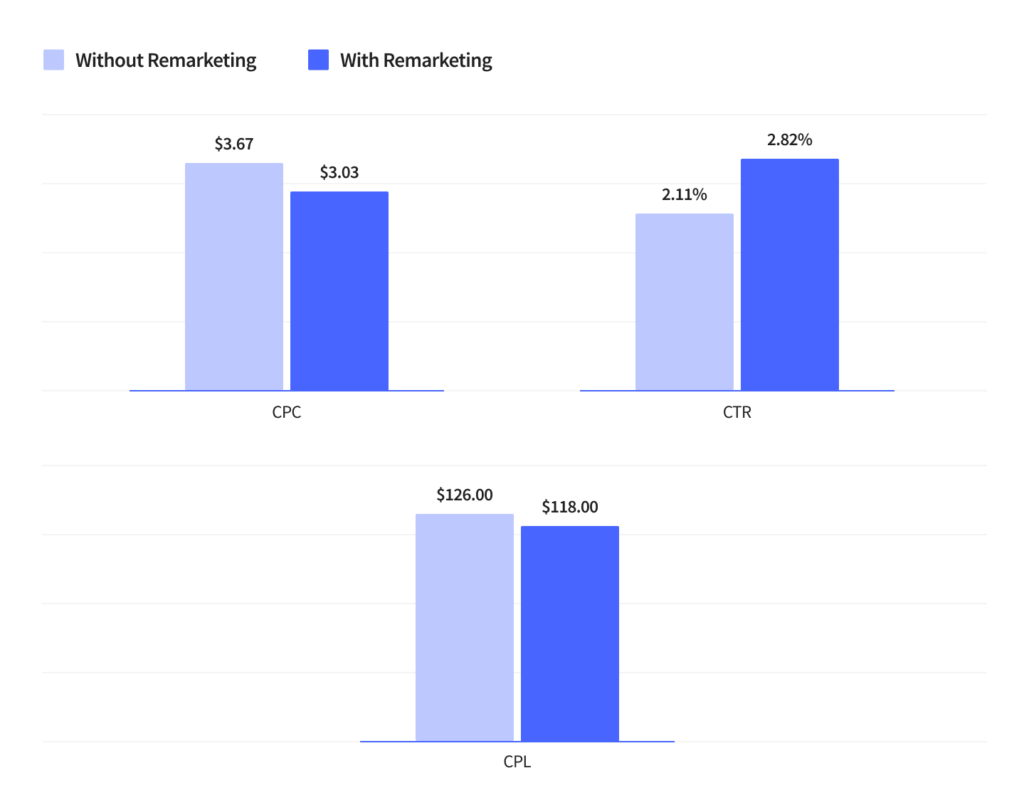 When you build a brand, make sure you are getting the most out of brand demand
It is crucial to make your audience aware of your brand. Awareness tools drive demand for the brand, not sales. The best variant for brand awareness is video campaigns; for example, YouTube video campaigns.In a video, you can describe your product in more detail. It is very important to create a short (up to 30 seconds) dynamic video with audio. Remember, users do not like to watch ad videos and usually click skip; therefore, show your brand and main idea in the first 6 seconds.

When generating awareness, you need to make sure you make the most out of it by creating a branded keywords strategy. Branded keywords are phrases directly associated with your brand, products, and services. They are the scale that measures the popularity of your brand. People who search directly for your brand are aware of both their needs and the services you offer, so they form an extremely hot quality audience. It is crucial not to lose this demand or let competition steal it.
Branded keywords are a high performing type of keywords, therefore, it is very important to notice if/when your competitors target for this keyword, which happens very often. In cases when competitors target your branded keywords, develop a separate brand campaign for your product. Get as much target impression share in SERP as possible in the top 3.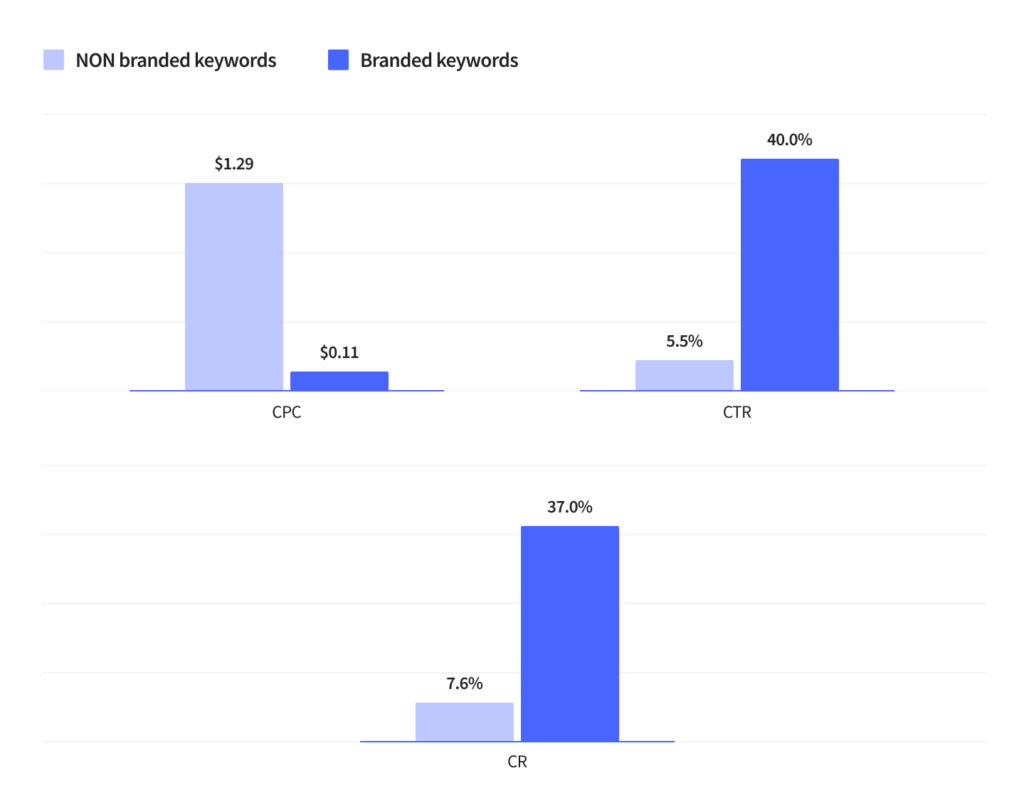 Final Word
PPC is a really good way for SaaS companies to drive qualified leads and raise brand awareness. Following the best practices we covered above will help you make sure your paid promotion is optimized to bring you efficient and inexpensive results.
Whether you decide to create your PPC campaigns yourself or under the guidance of an experienced SaaS marketing agency, make sure to use the approaches to scale your business strategically and with your specific goals in mind.
Contact us
Reach new heights
Let's find the best mix of services to cover your business needs.