NEARCON 2022: What is the future for NEAR ecosystem?
Main insights from NEARCON 2022 conference in Lisbon, Portugal and the future of NEAR protocol development.
Download successful case

September 22, 2022
Hosted in Lisbon, Portugal last week, NEARCON united hundreds of people and projects who believe in the bright and promising future of the NEAR ecosystem and the community around it. Let's look at this amazing conference as an opportunity to reflect on NEAR's progress and see where it is heading in the wider Web3 realm.
Building beyond the hype: Nearcon 2022
The overall atmosphere at NEARCON was extremely inspiring, with more than 3 thousand (compared to just 600 attendees last year) of NEAR enthusiasts from 176 countries uniting in a city that became a global hub for crypto and blockchain development – Lisbon.
The venue, located at the very coast of the Atlantic Ocean, was extremely stunning, showcasing beautifully the focus on sustainability, entrepreneurship, creativity & development. And even though some challenges arose along the way due to catastrophic weather, they were handled quickly demonstrating the brilliance of problem-solving thinking & acting in the web3 world.
Shared by Illia Polosukhin & Marieke Flament, who represented NEAR itself, was the core strategic focus of the foundation – make NEAR the most simple ecosystem and build beyond the hype. NEAR's goal is to remove all barriers to Web3 and generate mass adoption. These goals are backed by impressive 30X growth of the ecosystem in just a year – from 1m to 19m accounts, having 800 projects compared to 100 and $600m tvl compared to $50m last year. The next growth target for the protocol is 1 billion users in the next 5 years.
Decentralized governance: NEAR digital collective
NEAR scalability goals are ambitious & to make that happen there is a need for the decentralized movement of all ecosystem participants fully aligned to each other. It is about governance evolution.
Illia Polosukhin presented a step towards NEAR's goal of mass adoption and decentralization – a framework that would function as an ecosystem-wide self-governance treasury called the NEAR Digital Collective (NDC). This framework will shift the decision-making process to blockchain, making it more transparent and community-driven.
Going global with NEAR regional hubs
Fostering the mass adoption of NEAR protocol and Web3 is an important mission for the NEAR ecosystem, which they bring to life through the creation of regional hubs. Immersion into geographical markets is a huge step towards global adoption as it provides local communities with tools and support to begin building on the NEAR protocol.
Just in June they launched the Balkans hub, which will accelerate onboarding of Web3 talents and blockchain projects in the Balkans region. At NEARCON, not one but two regional hubs were announced: India and Vietnam. The regional hub in India is dedicated to blockchain talent development and innovation.
And of course there are A LOT of Ukrainians in the NEAR Ukraine hub, as Ukraine ranks 3rd markets on the level of crypto adoption. This hub organized a huge charity party with singer ONUKA, raising more than $25k to help Ukraine fight for its independence, showcasing how the global NEAR community can unite the forces to contribute to the cause and help those in need.
New entertainment-focused VC fund for NEAR
The mass adoption focus was on each stage and in each of the huge announcements made during the conference. One of such breaking news was a new VC creation. The NEAR Foundation announced a $100 million venture capital fund and venture lab in partnership with Caerus Ventures, the Swiss organization behind the NEAR blockchain protocol. It will work with creators, talent and franchise owners to catalyze innovation in Web3, focusing on sport, music, fashion and art.
This is an important announcement as it shows how the adoption of NEAR and crypto culture in general can be done through culture – an endless field of opportunities for crypto projects to explore.
NFT & Metaverse on NEAR
NFTs and the Metaverse were discussed across many panels, with the core message being that open data, and open Metaverse of Web1 is all about the benefits of open ownership and creating utility. Baron Davis from More Than Us shared that utility and community are at the core is what Metaverse can give, and NFTs are crucial to provide us with access to it.  They will also help build transparency and attract mass adoption to NEAR. 
Defi on NEAR ecosystem
NEAR's DeFi goal is also to launch real world financial products that would use on-chain capital to stimulate off-chain usage, directly affecting real lives. Near itself continues to decentralize capital away from the foundation into the hands of the community. Also, NEAR announced that native USDT is now on NEAR and brings the best retail on-ramps to the ecosystem.
Why NEAR is worth your attention
So you've looked at all the exciting things that happened in the NEAR community recently, but one big question still stands – why is NEAR the best choice to build your project on?
NEAR is not just another layer 1 solution, but a thriving and rapidly developing ecosystem that puts the needs of users first, while providing continuous support to developers through an expert team, grants, and the expertise of NEAR Guilds.
To get into details, as NEAR's goal is to be the easiest chain of all to use, it is extremely real friendly, creating experiences for various types of users, having low gas costs and human readable account names as a primitive.
It is mobile optimized: Sweatcoin is bringing 100M mobile users to NEAR, there are many excellent mobile-first wallets like Sender, Here, Dojo and mobile web-optimized wallets. In addition, NEAR is now integrated into all of the top exchanges.
Aurora is another amazing project that expands NEAR's ability to attract and adapt projects built on other blockchains, which is important for the overall goal of adoption.
This brings many new opportunities and a favorable environment for construction—without unnecessary competition— that is hard to find elsewhere.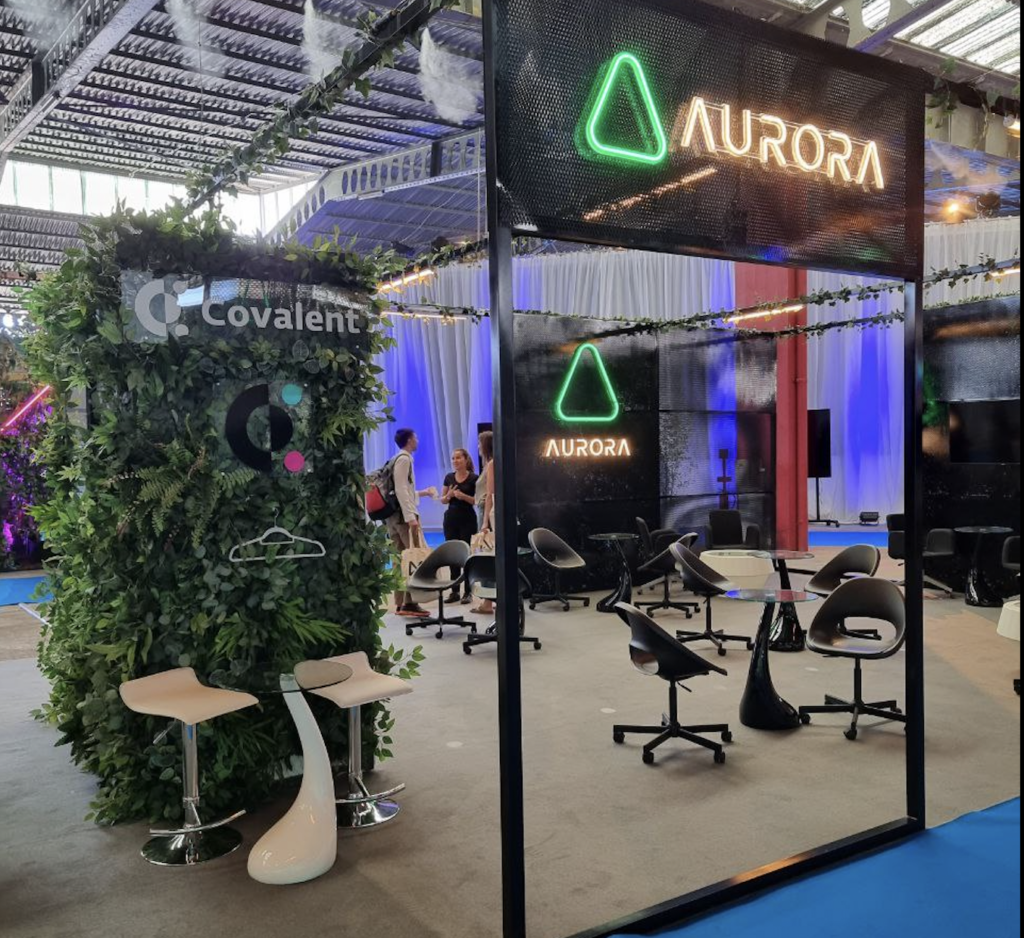 The future of NEAR
While NEAR is an extremely promising ecosystem which we at 42DM would bet on, there are still some developments to be made.
Firstly, user experience at NEAR is still developing to fit mass adoption. However, there are positive changes in this direction as some projects are completely changing their user flow to become more understandable, simple, and easy to try for Web2 audiences.
The challenge of UX in Web3, shared by Erik Trautman from Satori, is not many users are ready to solve challenges, like creating a wallet, or buying crypto, to see the utility of a particular project. For mass adoption, projects need to simplify the process of their value to be seen, sometimes even to simulate the value of web3 adoption to get the user engaged, increasing the chances of their audience's willingness to join Web3.
Next, the ecosystem still has a very limited awareness both in Web3 and beyond, and even though its value is huge, the top of mind is still much behind the industry leaders. With this in mind, the foundation is making huge steps to solve that with big announcements of bringing Web2 products to Web3, like SWEAT or SailGP.
But this is just the beginning. We've heard that more than 30 multi-chain DeFi projects will be coming to NEAR in the upcoming months. And with more cool products that would speak for NEARs themselves the awareness of the audience & the adoption of the protocol will grow significantly next year.
But in the meantime, limited awareness of course presents a challenge for projects on NEAR to find a great and strategic marketing approach for scaling. This is where having a partner who knows the NEAR ecosystem and has already launched and scaled products within and beyond it, can be the key to success. That's exactly what the 42DM Team is here to provide.
We have been involved in blockchain since 2017 and have worked with NEAR protocol for 2 years, leveraging experience gained from working with other promising crypto and blockchain projects. We firmly understand what it takes to position a product and demonstrate its value within an active community.
The results? Working with a leading software developer who is building amazing products on NEAR, we got his team's product into the top 6 in just three months! We know how to attract new users to NEAR and its products, helping to develop an engaged community that is the basis for long-term growth.
If you want to hear more of our insights from NEARCON or explore how you can scale your project on NEAR – connect to us here!
Contact us
Reach new heights
Let's find the best mix of services to cover your business needs.