How to plan your marketing for growth in 2023: Insights from 50+ tech companies
Read the 2022 growth report of tech companies and learn what to expect and how to manage your marketing for profit in 2023.
See how we work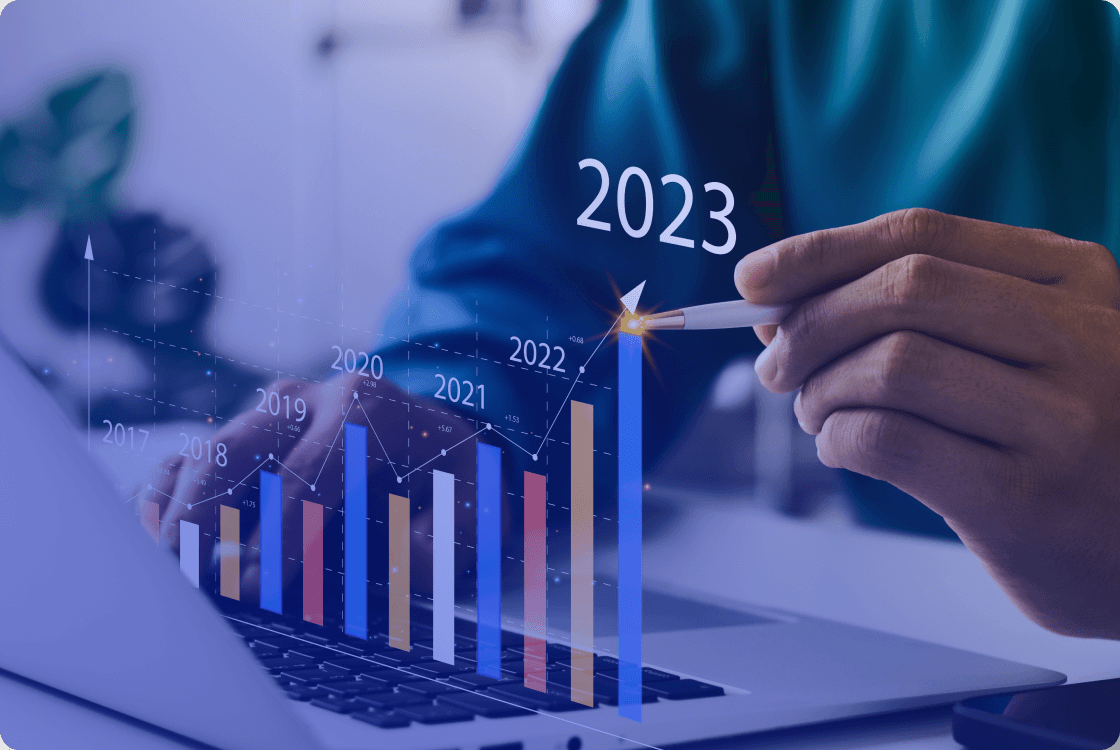 January 11, 2023
2023 may seem like an uncertain year, with recession stepping on our toes. What are the real results of the last year and expectations for 2023 amongst the tech companies globally, and how to effectively plan for unbreakable growth and profit? 42DM conducted research at the global tech conference Web Summit 2022 and beyond, and here is what we found.
Can marketing be a revenue-generating machine in 2023?
When we visited the biggest global tech conference in Lisbon in November, we saw how tech companies passionately believe in the growth opportunities of tech markets. However, we wanted to back up the overall enthusiasm with data. In our research, we asked tech founders, marketers, and executives about their growth plan/fact in 2022, the marketing techniques that worked best, and their plans for the future.
During this research, we had two points in mind – to track how the overall business growth changes and also how companies use marketing tools and plan marketing budgeting for next year. When asked what the mission of marketing is in their business, 93% of respondents stated that it is a tool for getting more revenue.
In times of a recession, marketing has to work as a revenue-generating machine as business focus switches towards profit, and pure growth is not enough for business survival anymore. While trying to find the best marketing approach during past recessions, we at 42DM realized that marketing should focus on bringing ready-to-buy sales opportunities, but just TOF leads, and be closely aligned with sales to generate more profit.
2022 tech growth in review
In 2022, tech companies planned for ambitious growth as the economy was recovering from the Covid-19 shock and getting back on the growth track. Their marketing was focusing on acquiring more leads, increasing revenue, and growing brands. These are the typical goals for tech businesses.
By the end of the year, only 56% of these companies were able to say that they had reached their goals. So, what did these companies do right that we can adopt for the 2023 year, and what prevented the remaining 44% from having clear goals and achieving them?
The classical marketing approach, like creating and promoting content, worked best for most of the companies.
What were the obstacles though?
#1: Lack of strategy:
12% of respondents didn't have a clear goal for 2022 altogether, and 18% mentioned that they lacked a strategic approach to reach the goals they defined for themselves. It is difficult to reach goals without a strategic, thought-through approach.
#2 Lack of team expertise:
Strategy by itself is not enough: tech companies need experienced teams & partners to test and implement ideas that will show measurable results.
#3 Competitive niche:
This obstacle means that companies lack positioning and a well-communicated competitive advantage in relation to their competition, which should be thoroughly researched and defined in their marketing strategy.
To summarize, tech companies planned for 2022 as a year of growth. However, the economic crisis hit unexpectedly, making it crucial to become flexible and adjust strategies to implement more innovative methods. The main obstacle became the lack of strategy that could meet the constantly changing conditions and differentiate tech companies on the market, as well as a lack of expertise to actually implement that strategy. During a possible recession of 2023, these challenges might be even more difficult, making it essential to analyze & adjust constantly.
Tech market in 2023: plans & expectations
Despite all the anxiety around the economic downfall, tech companies show a high amount of confidence that they will be able to reach their growth in the upcoming year.
This is reflected in the amount of financial resources tech companies plan to invest in marketing channels. Overall, marketing budget expectations for 2023 are optimistic: 63% of respondents plan for a moderate increase, 21% want to have a significant raise in their marketing budget, and only 5% include a moderate marketing budget decrease in their plans. This means that the tech market is preparing for growth no matter the challenges, and the only remaining question is what approaches and tools will help to ensure such plans become a reality?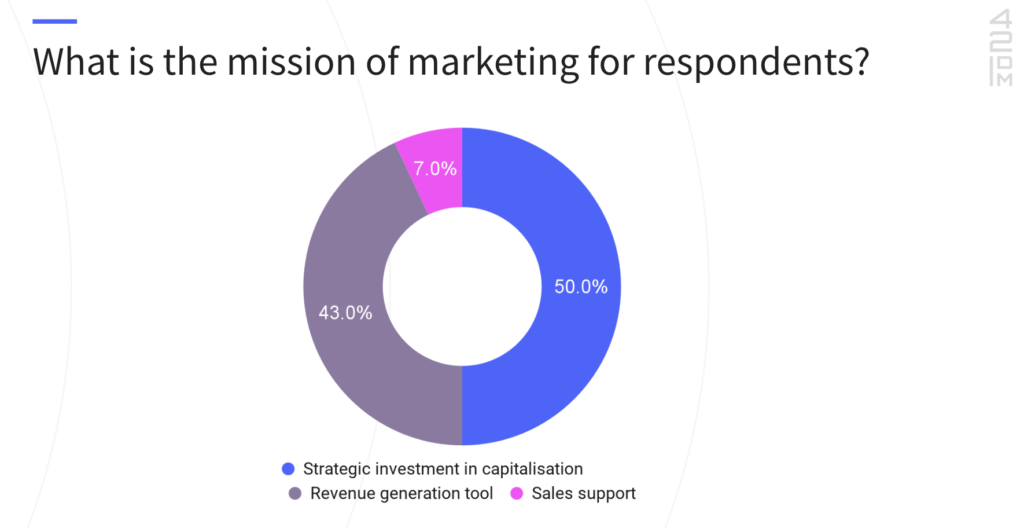 When asked what activities respondents plan to continue, mostly methods of traditional marketing come up – things tech companies already know work well for them.
Regarding new marketing channels for 2023, quality content creation and distribution through PR and social media channels is already a priority for tech companies. The power of quality content is exceptional when you need to attract and concern high-quality leads. To cut through the noise and make sure your content is seen, new AI-driven technologies, like chat GPT, are most effective. Such innovative solutions help to create and popularize content faster and more economically to make sure the target audience who is capable of paying is reached. Here tactics like ABM & ABX come in handy. With ABM, you can reach your target accounts with personalized content on scale.
How to keep marketing in 2023 strategic but flexible
So, based on our research, there is a lot of enthusiasm in the tech market. To ensure it lasts and to make your 2023 marketing strategy as effective as possible, we suggest following these rules:
Data-driven approach
All your decisions have to be rationalized by data. You must analyze your activities and make data-driven decisions constantly. Then, use it during deep brainstorming sessions for new insights.
Quarterly planning
The maximum range of your planning should be a quarter. This way you give yourself room for flexibility and testing to recession-proof yourself. Focus on analyzing quarterly returns on marketing investment and adjust your budget accordingly, with marketing planning best practices from 42DM.
Closely align sales and marketing
To gain profit, marketing should focus on attracting highly relevant, "ready-to-buy" opportunities and sales and to use marketing intelligence to shorten the sales cycle.
Use ABM & ABX strategies to reach marketing & sales goals
To increase profit, marketing & sales should focus on particular customers who need your solution + can afford it + match ICP. Up-to-date ABM platforms help identify the intent signals & match accounts with your ICP's to focus on what matters most in a recession – ready-to-buy leads!
ABM & ABX also helps to identify opportunities, create interactive content focused on user intent and to gather more intelligence about the person for sales. As sales will have more intelligence about opportunities, they will know how to close customers quicker – making the cycle shorter.
So, it is a matter of focus to make 2023 a year of huge growth! To succeed in 2023, tech companies need to use more innovative, recession-proof marketing methods. Finding a reliable partner to form a marketing team and creating a growth strategy is essential. If you want a customized marketing plan based on our best practices, book a meeting with your marketing advisor, who will discuss your business needs, goals and expectations and help you plan for 2023!
Contact us
Reach new heights
Let's find the best mix of services to cover your business needs.