Client:
Online advertising
tool for eCommerce
Geo:
USA, Canada,
Australia,
Great Britain
Industry:
Ad tech
Key services:
Strategy, SEO,
Content
Results
900%
organic clicks growth
in 1 year
492%
user growth in 1 year
16.1
points
average position increase
Our client is an online advertising tool for eCommerce
stores that allows fully automated Facebook & Google
ads, making it easy to create and manage ad campaigns. Challenges:
Highly competitive
niche
Limited budget
Product needs to
re-brand and
switch domains
Marketing goals
Increase brand awareness
Drive organic traffic through commercial keywords
Our Solutions
We helped our client to re-brand and switch domains for new brand positioning. Then, we created a comprehensive SEO strategy to drive organic traffic.
Marketing
hypotheses
creation and testing
Development of
content ecosystem
for awareness stage
(glossary blog)
Launch and activation for
SEO Landing Pages for
consideration stage
Industry trend
monitoring to
provide blog
content of highest
relevancy
Keep producing and
supporting relevant
content for organic
lead generation
Moving from one domain
to another
Before


After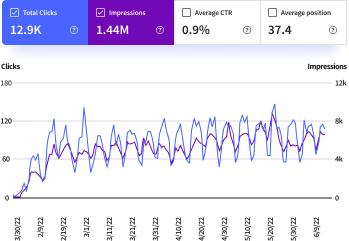 Want to
become the top solution

in your cluster? Talk to 42DM
Contact us
Reach new heights with us
Let's find the best mix of services to cover your business needs.